Job Market Hot for Fresh Grads
Tips for How to Stand Out from the Crowd and Secure that Key Job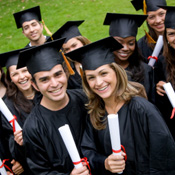 With increased demand for skilled cybersecurity professionals, both within the public and private sectors, job prospects for recent IT security graduates are on the rise.

Top universities such as Purdue, Carnegie Mellon and Norwich universities are experiencing close to 100 percent placements for their grad and undergrad information security students. "Right now, almost every student that completes our degree requirement has a reasonable range of job opportunities available to them," says Danielle Zeedick, professor at Norwich. "Any government agency or private company that has valuable information needs to protect it, and is interested in the kind of students that we produce from our bachelor's and master's program."

Christopher Pashley, an IT consultant with Booz Allen Hamilton, recently joined the company after completing a bachelor's program in information assurance at Norwich. He received the job offer soon after he completed a three-month internship with the company. "This opportunity is a dream come true and a great way to kick-start my career," he says.

He did not look any further beyond Booz Allen Hamilton. The company's reputation and job security were two factors that made him grab this opportunity. "The internship is what helped out -- I got a good view of the company and saw my future here."
Government Opportunities
According to the 2010 State of Cybersecurity Survey from the Federal CISO's Perspective by the International Information Systems Security Certification Consortium Inc., many government leaders and chief information security officers, are turning to fresh graduates to fill their hiring needs. The survey finds that 44 percent of the CISOs expect to hire one-to-five Scholarship for Service program students in the coming year, while 12 percent will hire more than six. In all, 20 percent of their new hires will be SFS students. The SFS program enables students to get funded by the federal government for their education, tuition and boarding. In return, they have to work for the government for a period of two years.

"This is the time for guaranteed full-term employment for professionals embracing cybersecurity," says Lynn McNulty, (ISC)2 consultant and member of (ISC)2 U.S. Government Advisory Board for Cyber Security. "The students from the SFS program are well prepared and come with a focus on the government's cybersecurity problems and are in a position to contribute immediately."

Matthew Kiley from Purdue University, gainfully employed by the U.S. Department of Justice, says, "It's a privilege to be in cybersecurity and work for the government in this hour of need." For him, the breadth of experience and job stability are unmatched by the private sector.

A contributing factor to increased IT security jobs within the federal government is The US Cyber Challenge, a nationwide talent search is assisting young Americans to seek education, choose majors and develop skills in cybersecurity to fill the ranks of cybersecurity practitioners, researchers and warriors.
Can Grads be Choosy?
While other college graduates may struggle to land their first jobs, students with academic degrees in information assurance are quickly getting absorbed into the workforce.

Krishna Santosh Reddy from Carnegie Mellon University saw great opportunities in the private sector and was selected through the school's career fair for a position with Arista Networks, a company focused in innovative ethernet switching hardware and EOS platform headquartered in Silicon Valley.

For him and many other international students, the private sector is haven for entry-level security positions. However, it is challenging to get in the door. "Companies expect nothing less than perfect candidates to fill their security roles," he says. "It involves a constant selling of your abilities and skills to the company."

Within the private sector, companies such as Google, Yahoo, Amazon, Bloomberg and Sun Microsystems are heavy on campus recruitments. They usually hire fresh graduates to fill positions such as network engineers, application software developers and security consultants.

"The demand no doubt is at its peak for information assurance students; however, they cannot afford to be choosy," says Zeedick. Her advice to students: Take up job opportunities that come their way and use the experience to build upon their existing skills. "Today, employers are very selective, and students should be honored to have that one job offer at hand."
What Employers Want
According to Adam Sweeney, director of software engineering at Arista Networks, "We look for exceptionally bright, excited software and application security candidates coming out of great universities."

Critical factors he looks for in his university recruits include:
Passion - Some clear indications that the student is really excited by software. "We look for people who truly love building secure software," he says. In his hiring process, he gives emphasis to candidates who have worked on projects outside of class for fun and passion, demonstrating strong analytical abilities. "We're a networking company focused in building systems, so we look for people that are excited by the problems we have to solve."
Strong Programming Skills - He looks for students who have a strong grasp on the applicability aspect of coding, including a good fundamental understanding of object oriented programming, secure code and how to use it to solve real problems.
Interpersonal Skills - In hiring university students, Sweeny tries to focus on potential candidates who will be a good match with the rest of the team. Their communication and presentation skills play a significant role here. He looks for graduates who have the ability to communicate clearly the trade off in a particular solution to a problem. "Communicating easily with rest of the team is fundamental to making things happen," he says.
Today, the jobs come with lot of hard work and preparation. "It is a highly competitive market, and we need to ensure we get our bearing straight," says Pashley. who was among two candidates out of 12 to be selected for internship with Booz Allen Hamilton last summer.
Students that are selected for security jobs must be thorough in their work and demonstrate to potential employers how they resolve issues working in a team; how they collaborate with individuals to get projects completed; how their work impacts the overall company; and freely talk about their future goals, ambition, affiliations with security groups and more.
Starting salaries range from $45,000- $85,000 annually, depending on the company and position.
Students, Start Here
Here are 5 tips shared by students for landing a job in IT security:
Seek Internships - Usually after their first year in college, students need to start looking for internships or faculty-sponsored projects to get hands-on experience. There are specific career fairs that most colleges host and which attract employers to hire students for internships. These fairs are generally hosted during the spring. Students need to track these fairs, keep close contacts with their professors and career counselors to know how and when to be prepared. Consulting companies such as Deloitte, Ernst and Yong, Booz Allen Hamilton, Lockheed Martin, BAE systems, General Dynamics are always looking for qualified interns.
Attend Job Fairs - Each college hosts two or three major career fairs during the year, including criminal justice fair, science and math, of which students should take full benefit. These fairs usually represent 100-150 companies ranging from Google, Amazon, Microsoft, and federal government agencies to new start-up organizations. Students should visit each booth personally, hand out their resumes and take a couple of minutes to speak to the company representative by asking pertinent questions about the positions open, qualifications needed, corporate culture etc.
Network - Develop close ties with the school's alumni network and constantly engage in conversations to know if their companies are looking for fresh graduates. "Alumni referrals are a great way to get placed," Zeedick says. Also, participation in the school's email distribution list, developing good relations with faculty members, helps in getting recommendation for projects and job opportunities.
Join Associations - Get associated with groups such as (ISC)2, ISACA, SANS Institute and others to stay current with industry and security issues. A good way to connect is using social media channels like LinkedIn, Facebook, Twitter and others.
Start Blogging - Maintaining a blog or contributing relevant content on security-related issues to major industry publications is another good way to stand out and add credibility in the job market place.