Israeli CyberSec Sector Copes with War
Providers Deal With Hamas Rocket Attacks, Army Call Up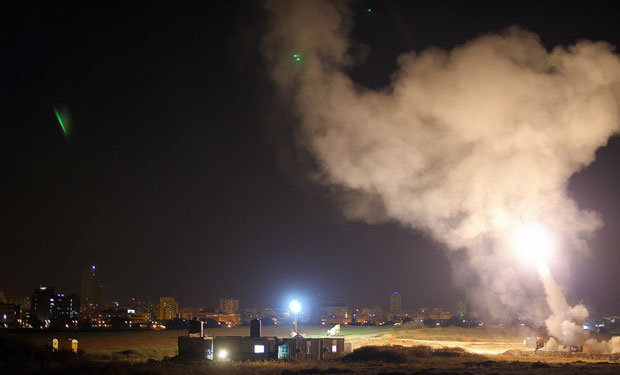 Mark Gazit understands an errant missile fired from Gaza could threaten his cybersecurity business in suburban Tel Aviv. He also ponders the prospect of Israel's enemies causing damage to his company and the nation's economy through cyber-attacks.
See Also: JavaScript and Blockchain: Technologies You Can't Ignore
"The assumption is that these people are capable and try to do everything in their power to cause damage," says Gazit, chief executive at ThetaRay, a year-and-a-half-old startup that develops and markets an appliance and cloud service to protect critical infrastructure. "You see enormous amount of [cyber] attacks. Luckily for us, a lot of those attacks are not very sophisticated."
Are Hamas' cyber capabilities as potent as its kinetic weaponry? The Palestinian group that rules Gaza has launched more than 2,000 rockets at Israel since July 8, but largely because of Israel Defense Forces' Iron Dome anti-missile system, those rockets have caused little significant damage.
Mark Gazit
Gazit won't dismiss the chance that Israel's enemies could try to breach key cybersecurity companies' computer systems to pilfer intellectual property such as source code. Pilfering such trade secrets conceivably could damage Israeli companies by allowing adversaries to create ways to circumvent the protection provided by the cybersecurity wares that might make them worthless. That, in turn, could devastate an important contributor to Israel's economy.
Though Gazit says he has discussed such potential cyberwarfare against Israeli businesses with other industrial leaders, he expresses overwhelming faith that Israeli cybersecurity know-how can successfully thwart such attacks.
Global Cybersecurity Powerhouse
There's a lot at stake for Israel's cybersecurity industry and the nation if attacks - whether cyber or physical - caused momentous damage. Israel, after the United States, is the world's leading provider of cybersecurity products and services. According to the Israeli government, Israel last year exported about $3 billion in cybersecurity products and services, or 5 percent of the global market. That's three times greater than Britain, the Israeli government touts. And, the government says Israeli companies received 11 percent, or $165 million, of all money raised from global investors for cybersecurity startups last year.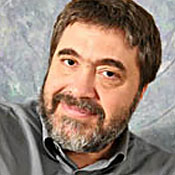 Jon Medved
Indeed, Israel is a global powerhouse in cybersecurity, with about 20 multinational companies conducting cybersecurity research there. American-born Jon Medved, chief executive of the Israeli venture capital firm OurCrowd, unconditionally believes that Israel's cybersecurity sector can defend itself from damaging cyber-attacks aimed at stealing trade secrets. "It's pretty beyond their capabilities," he says of Hamas and other Israeli cyber-foes.
Cyber-attacks by Hamas against Israel have grown by 900 percent since the beginning of the Israeli-Hamas conflict earlier this month, Isaac Ben-Israel, head of the Tel Aviv University's Yuval Neeman Workshop for Science, Technology and Security, tells the Times of Israel (see Minimal Cyber-Attacks Seen as Ukraine, Gaza Conflicts Intensify). But the Hamas cyber-attacks apparently have been more of a nuisance than damaging so far. Hamas loyalists, for instance, sent text messages to Israelis' mobile phones, purportedly from Israeli security services, warning: "Rocket from Gaza hit petrochemical plant in Haifa, huge fire, possible chemical leak, advised to evacuate Haifa." There was no attack or huge fire, but perhaps a few frayed nerves.
The Iranian Cyberthreat
Hamas, however, is just one of Israel's enemies in cyberspace. Iran, with far more sophisticated cyberskills, might be motivated to launch such an attack to get revenge for Stuxnet, a computer worm discovered in June 2010 that Israel and the United States are believed to have implanted in computers to cripple Iranian nuclear centrifuges (see Cyberwar: Reality or Exaggeration?).
But Israelis' confidence in the ability of the nation's cyberventures to defend themselves is strong. "Our defense capabilities are among the best in the world, if not the best," Medved says. "There are few areas where we get as much credit, and I think well-deserved credit, as we do in cyber. ... This is our national industry. If you had to name which industry in Israel is the strongest, then it would be cyber."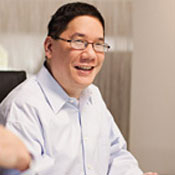 Jonathan Ho
The war between Israel and Hamas hasn't yet spooked investors who finance Israeli cybersecurity companies. "The conflict is likely to be a distraction in the background, but I don't believe that it will significantly harm productivity or prevent business from being conducted," says Jonathan Ho, a technology analyst specializing in cybersecurity technology at William Blair, a global investment banking and asset management firm.
Investors are attracted to the "strong pedigree" of former Israel Defense Forces and military intelligence officers who founded most of Israel's cybersecurity companies, Ho says, adding: "My conversations suggest that there is a solid network of support for funding and mentoring of startups from former members of these elite units, and I don't think that will change."
Israel's economy remains strong. In the weeks since Hamas began to bombard Israel with rockets, the Tel Aviv stock exchange's main index has climbed by more than 2 percent. The value of the Israeli shekel, when compared against the U.S. dollar, is at its strongest level in nearly three years. Even during the conflict with Hamas, the shekel's value has risen.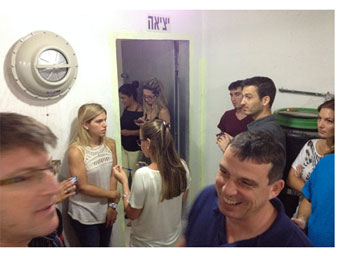 Israeli workers in a safe room during a rocket attack. SOURCE: Uri Rivner
Making Adjustments
That said, Israeli businesses, not just those focused on cybersecurity, have had to make adjustments to deal with the rocket assaults and the call up of tens of thousands of reservists to battle Hamas. When mobile devices alert workers of a Hamas rocket attack, they retreat to safe rooms most businesses provide until an all clear message is broadcast.
Israel, a nation of 8 million, relies heavily on reservists to augment its active combat forces when conflicts arise. The nation drafts most Jewish and Druze citizens - men and women - into the IDF after high school for two to four years of service, with men in combat units serving in the reserves until age 40.
Gazit says ThetaRay and other businesses implement contingency plans that help them function when key employees are called up for military service. Most reservists - even noncombatants - are called up for duty for at least two to four weeks annually. "It's forced us to develop policies and procedures when those guys are called up once a year," he says.
Hear Jon Medved describe why Israeli economy flourishes during wartime.
But the current call up involves mostly combat reservists. "The reason cybersecurity company are least affected is that the majority of employees come from the technological side of the intelligence corps, Unit 8200, and they are simply not needed in short-term conflicts," says Uri Rivner, a top executive at an Israeli cybersecurity company. "As reservists, they may be called during peace time to help with long-term projects, but they are not required for a military operation. Most of the folks in my startup are ex-8200, so that's why we and other cybersecurity companies are less affected."
And, when the IDF calls up reservists, the citizen soldiers don't devote all of their time to military service. "People will be in for 24 hours [doing reserve duty] and out for 24 or 48 hours," Medved says. "They'll go in, do their duty, and then come back and code. Not a lot of sleeping going on, but people are getting it done."