CISO Trainings , Training & Security Leadership
New Tools Aim to Close the Cybersecurity Skills Gap
Interview with National Initiative for Cybersecurity Education Director Rodney Petersen
Two initiatives at the National Institute of Standards and Technology aim to close the cybersecurity skills gap in the United States.
One is an interactive, online tool known as CyberSeek. The other is updated guidance known as the NICE Cybersecurity Workforce Framework, originally created four years ago by the National Initiative for Cybersecurity Education, or NICE, a public-private partnership led by NIST.
NICE Director Rodney Petersen says a synergy exists between the framework and CyberSeek. The framework defines seven broad categories of cybersecurity jobs and CyberSeek takes that information and combines it with job demand data collected by the job market analytics firm Burning Glass to create the interactive tool, Petersen explains in an interview with Information Security Media Group.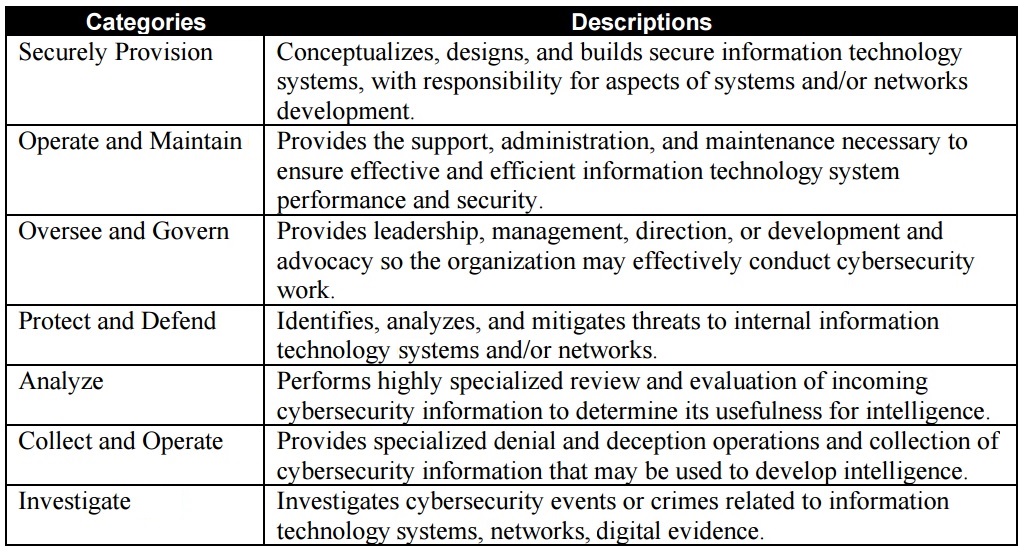 Source: NICE Cybersecurity Workforce Framework
The skills gap is immense. According to NICE, cybersecurity employment in the United States stands at more than 778,000, with the number of job openings at almost 350,000. In just one subset - information security analysts - only 88,000 positions were filled in the third quarter of 2016, according to an ISMG analysis of Bureau of Labor Statistics data (see Growth in IT Security Workforce Picks Up). Burning Glass say that's a talent shortfall of 40,000 workers.
In the interview (click on player below photo to listen), Petersen:
Discusses how the framework provides a common language in which policymakers can design programs to close the cybersecurity skills gap;
Explains how different stakeholders can employ CyberSeek and the framework; and
Describes the seven broad categories of cybersecurity jobs.
Visibility Into Supply and Demand
CyberSeek gives policymakers, employers, security professionals and others greater visibility into the demand for cybersecurity professionals around the country, allowing them to see the skills and types of workers that employers are seeking, as well as the true supply of professionals to fill those positions.
Resembling a weather map, CyberSeek uses varying shades of color to reveal relative concentrations of cybersecurity job postings and worker supply. Users can search by state or more than 300 metropolitan areas, seeing total job openings, worker supply supply/demand ratio, a quotient for geographic concentration of workers and an area's top cybersecurity jobs by title.
Here's an example NICE provides for the Kansas City metropolitan area: CyberSeek reveals that in the past year there were 2,134 job openings and 6,829 employed workers, representing a higher-than-average cybersecurity workforce supply than the rest of the nation along with a lower concentration of cybersecurity job demand when compared with the national average. The Kansas City area's top three positions are cybersecurity analyst/specialist, cybersecurity engineer and auditor.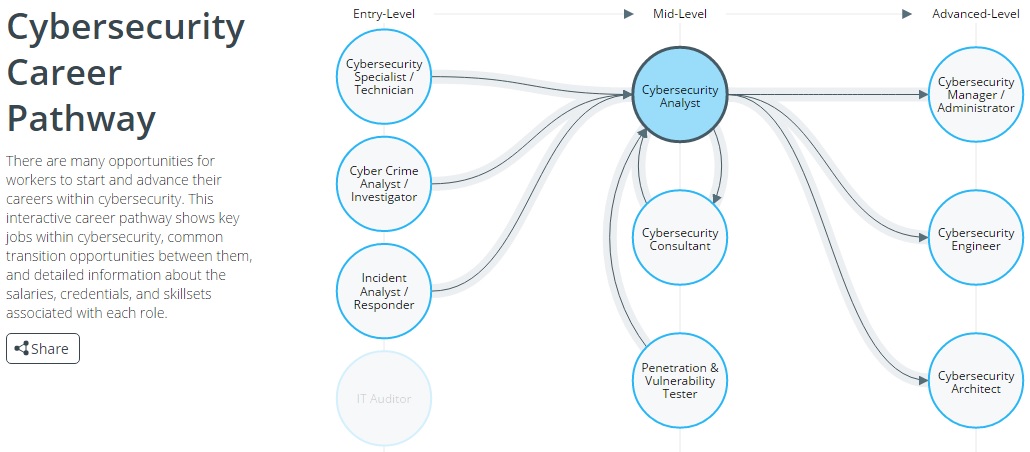 Source: CyberSeek
CyberSeek also features a section titled Career Pathway, which furnishes job seekers, students and workforce trainers with information on common job titles, salaries, online job openings, in-demand skills, education and certifications related to careers in cybersecurity. It also illustrates how career advancement can move from entry-level to mid-level to advanced-level positions.
Before becoming NICE director, Petersen served as the managing director of the Washington office of EDUCAUSE, a not-for-profit association that promotes the intelligent use of information technology at colleges and universities. He founded and directed the EDUCAUSE cybersecurity initiative.