ENISA on the New Threat Landscape
How Organizations Can Mitigate Emerging Threats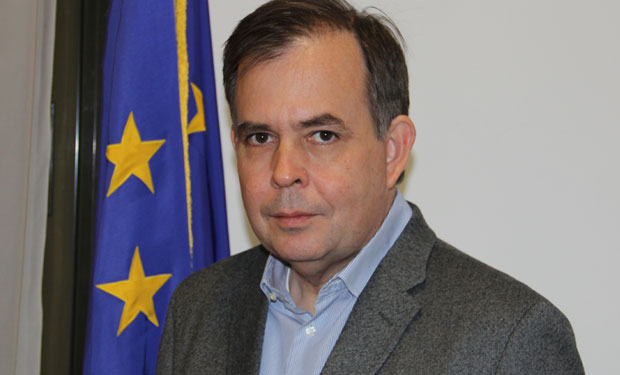 Cyberthreats increasingly target mobile devices, and simple security measures could help end-users slash these incidents by 50 percent. This is the key finding of ENISA's new Threat Landscape Report, says Louis Marinos, the prime author.
The European Union Agency for Network and Information Security has just released its second annual Threat Landscape Report, shedding light on emerging cyberthreats, adversaries and security solutions.
In an interview with Information Security Media Group, Marinos says the threats and threat actors have matured greatly over the past year.
"Definitely, the sophistication of threats has increased," he says. Malware is now often encrypted, botnets are more difficult to detect, and the attackers are increasingly business savvy. "We see business models of attackers being adapted to changes - for example, business strategies going mobile," he adds.
Among the trends ENISA reports:
Threat actors have honed their attacks and their tools;
Multiple nation-states have developed the capacity to infiltrate public and private targets;
Attack patterns and tools are migrating quickly to mobile targets.
With attacks shifting to mobile, end-users have greater responsibility to detect and prevent data breaches. And they can improve their response capabilities with very simple controls, such as up-to-date operating systems, anti-virus software and safer computing practices, Marinos says.
"At least 50 percent of these threats could be avoided if very primitive security controls would be implemented," he adds.
In an interview about the ENISA 2013 Threat Landscape Report, Marinos discusses:
Top cyberthreats and adversaries;
Why the two new battlefields are big data and the "Internet of Things;"
Where organizations should focus on mitigating threats in 2014.
Marinos is an expert in the area of risk management and risk assessment. During his engagement within ENISA, he has been working in the areas of emerging risks, continuity risks, risk management approaches for SMEs. He has established an inventory of risk management and risk assessment methods and tools and has been managing numerous teams of international experts in the area of risk management. Currently, Marinos is active in the area of threat landscape.