The Influencers: Vivek Kundra
Federal Chief Information Officer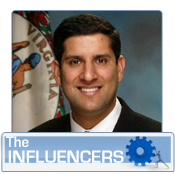 The Influencers is a continuing series of profiles of the people who shape federal government information security and privacy policy.
Vivek Kundra
Federal Chief Information Officer; Administrator of E-Government and Information Technology, White House Office of Management and Budget
Why He's an Influencer
Simply, Kundra is the top IT executive in the federal government, with responsibilities to coordinate the management and securing of information systems throughout the executive branch.
The fact that President Obama gave Kundra the added title of federal CIO - the first time ever - symbolizes the importance to the new administration of information technology and the post of administrator for e-government and IT. As e-administrator, he heads the Federal CIO Council and is responsible for issuing directives governing IT security.
Kundra is an innovator, and says he'll introduce processes and technologies to make government more transparent and less costly, while assuring IT security.
His Experience
In his previous job as chief technology officer for Washington, D.C., Kundra employed cloud computing with applications such as Google Apps to save the government money and promote collaboration among district employees. Kundra developed programs to promote open source solutions and crowdsourcing to engage citizens to help develop government applications and services.
Previously, Kundra served as Virginia's assistant secretary of commerce and technology, where he assembled in 2007 more than 100 business leaders for the largest United States trade delegation to visit India, resulting in a $99 million investment for Virginia.
Born in New Delhi, Kundra's family moved to Tanzania when he was one, and relocated to Gaithersburg, Md., at age 11. Kundra took English as a second language course till 9th grade - Swahili was his first language.
Kundra is a graduate of the University of Virginia's Sorensen Institute for Political Leadership and holds two degrees from the University of Maryland, including a master's in IT.
What's Said About Him
On his role in Recovery.gov, the government's website allowing citizens to track the government's stimulus spending: "That's a really important feature that he is smack in the middle of, [providing] visibility into the spend of the recovery bill. In essence, he has helped shape how we're doing business."
On the dual titles of federal CIO and e-Administrator: "That additional ball cap he gets to wear affords him some opportunities. With his e-government hat, he can in essence make policy ... and get us aligned in the direction he wants us to go. As far as his federal CIO hat, we standby to support whatever he wants to do to deliver outcomes that are in the best interest of the nation. We're ready, willing and able to support him." - Navy CIO Robert Carey
In His Own Words
"One of the biggest problems in the federal government is that process has trumped outcome, and, the biggest reason for that is that everybody is focused on compliance and nobody is thinking about innovation and how to drive change within the government.
"When you look at the how we lower the cost of government operations, a federal government budget of $70 billion, representing approximately 20 percent of the tech economy, why is it we can't innovate and find better ways of bringing services, lowering the cost of government operations and driving transparency?"