Howard Schmidt Still on the Job
Initial Report Said IT Security Adviser Was to Leave by May's End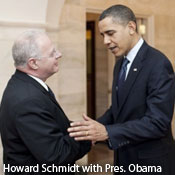 Howard Schmidt's tenure as White House cybersecurity coordinator is lasting a bit longer than first reported (see Obama Cybersecurity Coordinator Resigns).
See Also: Fireside Chat | Zero Tolerance: Controlling The Landscape Where You'll Meet Your Adversaries
When news surfaced May 16 that Office of Management and Budget Intelligence Branch Chief Michael Daniel would replace Schmidt as cybersecurity coordinator (see Who Is Michael Daniel?), the White House confirmed a news report that said Schmidt would step down at month's end.
But a White House spokeswoman says the end-of-May date was an approximation, and now says Schmidt's last day on the job will be the week of June 11.
Schmidt is the first White House cybersecurity coordinator. He was named by President Obama in December 2010 and took office the following month (see The Cybersecurity Czar Who Wasn't). The cybersecurity coordinator's post carries the title special assistant to the president.