Hospital Investigates Records Hoarding
Wake Forest Baptist Medical Center Patients Affected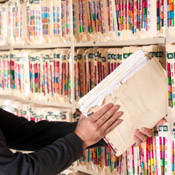 Wake Forest Baptist Medical Center in Winston-Salem, N.C., is attempting to determine how many patient records a fired employee, now charged with felony larceny, was hoarding. The investigation began last week when a man staying at a rental property owned by Linda Bowden Turner said he discovered medical documents stored there, according to local media reports.

Turner has been cooperative in assisting medical center staff in retrieving the materials, which are being examined, assessed and inventoried, according to a medical center statement.

As of June 4, the hospital had analyzed dozens of boxes from Turner's homes and storage units and determined that "only 3 percent to 4 percent of the material contained in them requires additional scrutiny and analysis by our privacy office," according to the statement. The remainder of the content includes magazines, newspapers, junk mail and other items. So far, none of the documents represent a complete medical record, according to the statement.

The hospital notes that Turner's attorney's description of her as "a hoarder who never intended to use the documents for her own benefit" appears to be "consistent with the medical center's investigation."

"Our own conversations with Turner and observations about the materials she was hoarding lead us to believe that the medical center documents were not stolen for the purpose of being misused or harming anyone," says J. T. Moser, Wake Forest Baptist's privacy officer. "It appears they were housed for years in her properties and in locked storage units and the contents left undisturbed until this discovery."

Once it completes its assessment of pertinent documents, the medical center will comply with obligations for reporting breaches to state and federal authorities, according to the statement. Under the HITECH Act breach notification rule, breaches must be reported to the HHS Office for Civil Rights. The hospital has informed the state attorney general's office about the investigation.