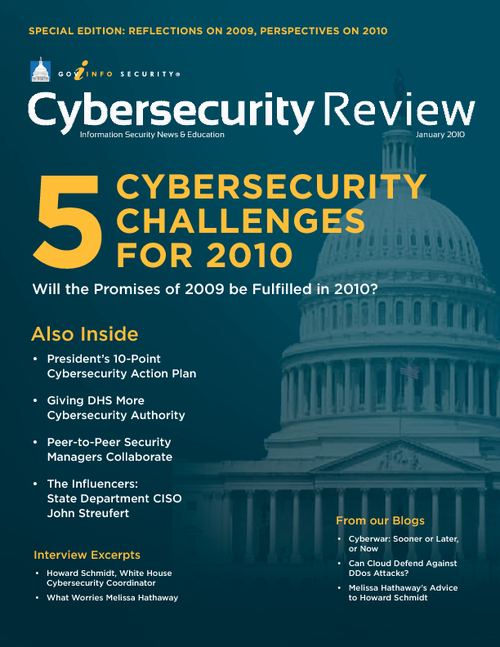 2009 was a year a promises. Will 2010 see those promises fulfilled? What you'll read in this GovInfoSecurity.com special report is our take on major cybersecurity challenges the federal government is facing in 2010.
You'll also get to sample our diverse coverage from the past year.
Here's the lineup of this special report:
Cover Story
5 Cybersecurity Challenges for 2010
Will the Promises of 2009 be Fulfilled in 2010?
Articles
President's 10-Point Cybersecurity Action Plan
Administration On a New Path to Secure Key Digital Assets
Giving DHS More Cybersecurity Authority
Bill Shifts Power Away from White House
Peer-to-Peer Security Managers Collaborate
NIST Venue Provides Opportunity to Share Best Practices
The Influencers: State Department CISO John Streufert
Implementing Real-Time Security Metrics
Blogs
Cyberwar: Sooner or Later, or Now
Has Global Cyberwar Already Commenced?
Melissa Hathaway's Advice to Howard Schmidt
Counsel to the new cybersecurity "czar" from the Cyberspace Policy Review leader.
Can Cloud Defend Against DDoS Attacks?
Flexible Hosting Resources Can Accommodate a Surge in Demand
Howard Schmidt, White House Cybersecurity Coordinator
Howard Schmidt on Federal Cybersecurity
What Worries Melissa Hathaway
One-Time White House Cybersecurity Adviser on U.S. IT Defenses
Download Handbook