Hagel: Trilateral Security Effort Needed
Calls for Sharing Best Security Practices with Canada, Mexico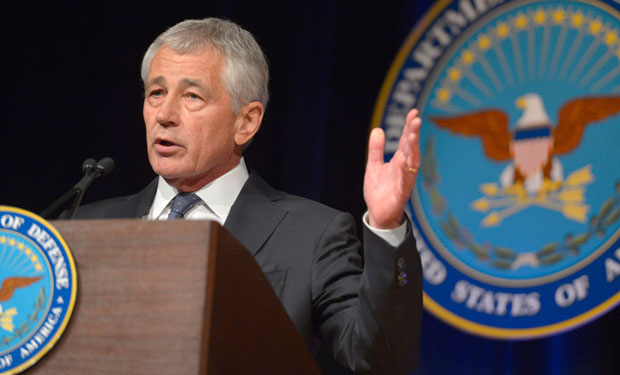 U.S. Defense Secretary Chuck Hagel is urging trilateral work with Canada and Mexico on cybersecurity and continental threat assessment.
See Also: Live Webinar | Cybersecurity in Healthcare Supply Chains: A CISO Perspective
Hagel, speaking at the second meeting of North American Defense Ministers in Mexico City on April 24, said cybersecurity is a common challenge that knows no borders.
"While our defense institutions do not have the lead in our respective countries for cybersecurity, we all share a common interest in [protecting] military communications," Hagel said. "I propose that we establish a cyber working group to identify potential opportunities to work together to share best practices and lessons learned."
Hagel said during the meeting that each U.S. defense institution works individually to address potential cyberthreats, and that the Defense Department has worked to elevate the importance of cybersecurity in the National Security Strategy.
Hagel's Cyber Focus
Hagel has been taking several steps to boost the DoD's focus on cybersecurity. In a speech March 28 during ceremonies honoring Army Gen. Keith Alexander, who retired as Cybercom commander and director of the National Security Agency, he described initiatives the military is taking to grow the cyberworkforce by training current personnel (see: DoD Looks Within to Build Cyber Force).
Recruiting and training cyberpersonnel is a top priority for Cybercom, said a senior Defense Department official, who - speaking on background - briefed the media on Hagel's speech. "Without highly skilled, elite cyber-operators, we're not going to accomplish all the things we want to do, and we spent a lot of time over the past few years figuring out what that model would be."
The 4-year-old Cybercom employs 1,800 professionals, but expects to grow to 6,000 employees by 2016, with many coming from the Army, Air Force, Marine Corps and the Navy.
In August 2013, Hagel named Daniel Prieto to be the first director of cybersecurity and technology in DoD's Office of the chief Information officer (see: DoD Taps New Leader for Info Sharing Program). Prieto, who served as vice president of IBM's public sector global business services, is charged with improving and growing the information sharing program between the federal government and defense contractors, known as the Defense Industrial Base, or DIB, before the initiative becomes mandatory.