Gov't Pilot Program Protects Defense Industry
DoD Deputy Secretary Lynn on Sharing Threat Info with Business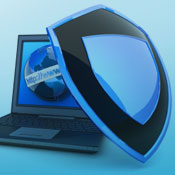 By William Lynn III
Deputy Secretary of Defense

The Department of Defense, in partnership with the Department of Homeland Security, has established a pilot program with a handful of defense companies. This program provides these companies with more robust protection for their networks. In this Defense Industrial Base - or DIB - cyber pilot, classified threat intelligence is shared with defense contractors or their commercial Internet service providers along with the know-how to employ it in network defense. By furnishing this threat intelligence, we are able to help strengthen these companies' existing cyber defenses.

In this way, the DIB cyber pilot builds off existing capabilities that are widely deployed through the commercial sector. By leveraging infrastructure that already exists, the pilot suggests we can provide substantial additional protections across our critical infrastructure for only a fractional increase in cost.

In the DIB cyber pilot, the U.S. government is not monitoring, intercepting or storing any private sector communications. Rather, threat intelligence provided by the government is helping the companies themselves, or the Internet service providers working on their behalf, to identify and stop malicious activity within their networks. The pilot is also voluntary for all participants.

Although we are only beginning to evaluate the effectiveness of the pilot, it has already stopped intrusions for some participating industry partners. And through the information sharing the pilot promotes, we not only halted intrusions. We also learned more about the diversity of techniques used to perpetrate them.

The DIB cyber pilot breaks new ground in recognizing the interconnectedness of cyber and the important role of stakeholders in thwarting attacks. We have much to do to protect our critical infrastructure from sophisticated intrusions and attacks. But by establishing a lawful and effective framework for the government to help operators of critical infrastructure defend their networks, we hope the DIB cyber pilot can measurably enhance the security of our nation's critical infrastructure.

William Lynn III is deputy defense secretary. This article was adapted from a speech he delivered July 14 at the National Defense University.