Golden State's New CISO: Keith Tresh
California National Guard CIO Becomes State's Top Infosec Exec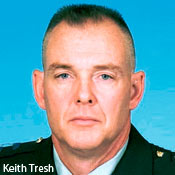 The Democratic governor of California has named a Republican to be the state chief information security officer.

Gov. Jerry Brown on Thursday tapped Army Col. Keith Tresh, 49, of Sacramento as director of the Office of Information Security at the California Technology Agency. Tresh had been chief information officer of the California National Guard since 2006, after serving in a number of different posts from 1993 to 2005.

California hasn't had a full-time CISO since Mark Weatherford resigned last summer to become vice president and chief security officer at the North American Electric Reliability Corp. (see Mark Weatherford Resigns as California CISO).

Keith Parker, a top official in the agency's Office of Technology Services, has been serving as acting CISO.

Tresh served in Iraq as a brigade communications officer in 2005 and 2006.

The CISO position, which pays $156,000 a year, does not require Senate confirmation.