Governance & Risk Management , Government , Industry Specific
German Cybersecurity Head Dismissed for Alleged Russia Ties
Arne Schönbohm Ousted After 6 Years as President of the German BSI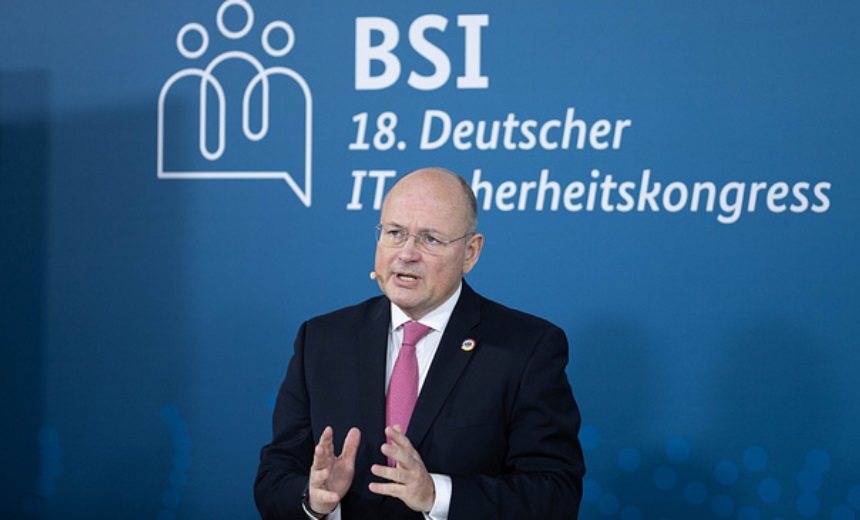 Germany's minister of the interior dismissed Arne Schönbohm, who until Tuesday was the longtime head of the government agency responsible for securing the federal government from cyberthreats.
See Also: Live Webinar | Cyber Resilience: Recovering from a Ransomware Attack
His firing by Minister Nancy Faeser was first reported by German news magazine Der Speigel.
The end of Schönbohm's six-year tenure as president of the German Federal Office for Information Security came just days after he faced accusations of contacts with Russian security services via industry association Cyber Security Council Germany. Schönbohm co-founded the organization, which describes itself as politically neutral, in 2012.
Satirical TV news program "ZDF Magazin Royal" on Oct. 7 ran a segment showing that Berlin-based firm Protelion had joined the council in 2020. According to reporting in the segment, Protelion is a subsidiary of Russian firm Infotecs, founded by a former member of the KGB. Schönbohm left the council in 2016 but maintained some contact and spoke during the council's 10-year celebration in September.
A Ministry of the Interior spokesperson said Schönbohm "permanently damaged the necessary public confidence in the neutrality and impartiality of the conduct of his office as president of Germany's most important cybersecurity authority," reports state-owned Deutsche Welle.
Ministry spokeswoman Britta Beylage-Haarmann underlined heightened German sensitivity to Kremlin influence given "the current crisis situation regarding Russian hybrid warfare," in a statement reported by The Washington Post.
Russia's February invasion of Ukraine has shaken German politics, causing a reassessment of decades of diplomatic and commercial engagement with Moscow as well as Berlin's role in European security.
"For many years, many Germans saw the purpose of the armed forces to deploy in the framework of the United Nations, for instance. Now it's clear also to the majority of the German public that we need to have armed forces for defense, for collective defense in Europe," said Minister of State Tobias Lindner at the Federal Foreign Office before a Washington, D.C. think tank audience in February.
The Cyber Security Council Germany on Oct. 10 expelled Protelion "with immediate effect" and pushed back on accusations that it acted as a front for Russia influence. "We were not aware of Protelion GmbH's connections to Russian services," said council President Hans-Wilhelm Dünn. Der Spiegel reports that Dünn's ties with Russia go deeper and include him signing a cooperation agreement with a Russian counterpart in 2019. The council, which also lists an address in Maryland, could not be immediately contacted.
Beylage-Haarmann said Schönbohm's permanent removal is still subject to the outcome of a ministry investigation.