Fraudulent Passports Issuance Plagues State
GAO Uncovers Faulty Processes Regarding Travel Documents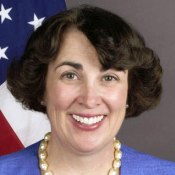 Fraud in issuing United States passports continues to plague the State Department.

A year and half ago, the Government Accountability Office reported that a single undercover investigator used fraudulent documents to obtain four valid passports from the State Department. In what it then termed the most egregious case, the GAO investigator obtained a passport using the Social Security number of a man who died 44 years ago, along with a forged birth certificate and driver's license.

Gregory Kutz, managing director for forensic audits and special investigations at the GAO, told the Senate Judiciary Subcommittee on Terrorism and Homeland Security Thursday that the State Department continues to issue fraudulent passports, citing the work of a GAO investigator who succeeded in getting the State Department to mail five of seven of the passports after applying for them fraudulently.

Brenda Sprague, deputy assistant secretary for passport services, told the committee the State Department is working to prevent fraud, but it's been a struggle. "My tenure with the State Department has been longstanding, challenging, and varied," said Sprague, who served overseas as a member of the Foreign Service, and for the past 24 years in Washington in a variety of positions before joining the Bureau of Consular Affairs in July 2008. "Yet no assignment has been as demanding, daunting and critical as my current mission managing the Passport Services Directorate, particularly with respect to combating and preventing passport fraud."

In his prepared testimony, Kutz said GAO successfully obtained three of these passports, but State had the remaining two recovered from the mail before they were delivered. "The agency discovered - after its adjudication process - that the two passports were part of GAO testing when they were linked to one of the passport applications it initially denied," he said, adding "that they used facial recognition technology - which they could have also used during the adjudication process - to identify the two remaining applications."

Kutz said the GAO tests showed that State failed to consistently employ data verification and counterfeit detection techniques in its passport issuance process. Of the five passports it issued, he said, State did not recognize discrepancies and suspicious indicators within each application. Among the examples Kutz cited:
Passport photos of the same investigator on multiple applications;

A 62-year-old applicant using a Social Security number issued in 2009;

Passport and driver's license photos showing about a 10 year age difference; and

The use of a California mailing address, a West Virginia permanent address and driver's license address, and a Washington, D.C. phone number in the same application.
"These were fraud indicators that should have been identified and questioned by State," Kutz said.
Sprague, in her prepared testimony, said State followed GAO's recommendations from its 2009 audit, and credited them with eventually identifying some of the fraudulent requests for the passports.
She also said increased information sharing within the federal government and with state and local governments is a highly effective way to ensure that only those entitled to U.S. citizenship receive a passport. "However, our efforts to gain access to information are hampered because Consular Affairs is not considered a law enforcement entity for information sharing purposes," Sprague said. "We need this designation."