First Military Cyber Commander Confirmed
Keith Alexander Continues as NSA Director, Earns Fourth Star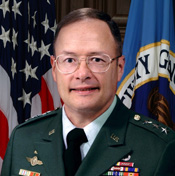 Arguably no one has more influence over federal cybersecurity than Army Gen. Keith Alexander, the director of the National Security Agency since 2005, who won Senate confirmation Friday to a second job: commander of the newly formed military's cyber command.

Taking on the jobs to head the cyber command and NSA, the super-secret electronics intelligence agency that's part of the Defense Department, earned Alexander a fourth star and the rank of general.

Defense Secretary Robert Gates created the new command last June as threats against the Defense Department's computer networks mounted. With a corresponding threat to national security, Gates said he saw a need for unity of command to address the problem.

When Gates announced creation of the command, concerns were raised about vesting so much power in a single individual as well as the influence the NSA and Defense Department might have over civilian agency cybersecurity. At his confirmation hearing last month, Alexander assured the senators that the organizations he would lead will provide technical support and warnings of potential virtual attacks on civilian networks but leave the defense of non-military digital assets to the Department of Homeland Security.

Alexander spent much of the hearing addressing the relationship betwee the NSA and DHS. He noted that the Comprehensive National Cybersecurity Initiative charges the NSA to provide technical assistance to civilian agencies. "We have responsibility to provide the technical information for what the threat is trying to do them, to provide an early warning to that," Alexander said. "But (DHS) would operate and defend that system. Our responsibility would be to provide people and capabilities to help them do that."

At the hearing before the Senate Armed Services Committee, Alexander revealed that Defense Department computers receive hundreds of thousands of probes a day from outsiders, including other nations, with the aim to gain information such as the types of operating systems running on DoD computers and networks, knowledge that could be used to facilitate future attacks.