Feds Begins Recruitment for Tech Fellows Program
Bolstering IT, Infosec Employment Among Program's Goals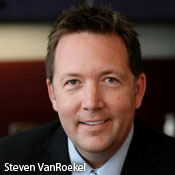 The federal government will begin to accept applications Thursday for the new Technology Fellows Program, announced this week by the Chief Information Officers Council, that's aimed to bolster the government IT and cybersecurity workforce.

The application deadline is Sept. 25.

Federal CIO Steven VanRoekel, in a White House blog posted Tuesday, said the Technology Fellows Program, for American citizens who hold master and/or doctoral degrees, should break down bureaucratic barriers that slow hiring.

"Once inside the federal government, the tech fellows will be given the challenge of working with the projects and complex systems that are only available when working in federal IT," VanRoekel said. "In my opinion, this is the competitive advantage that the federal government holds against the private sector.

"In no other organization in the world can an individual work on information-gathering systems sent into space, the protection of our warfighters and homeland through cybersecurity, or unlocking health data that could benefit millions of Americans."

The fellowships are for two years, and fellows will receive full salary and benefits.

More information about the program can be found at CIO.gov/techfellow.