Blockchain & Cryptocurrency , Cybercrime , Fraud Management & Cybercrime
Federal Reserve Report Raises Concerns About 'Stablecoins'
Fed Warns These Cryptocurrencies Could Be Used for Money Laundering, Terrorism Financing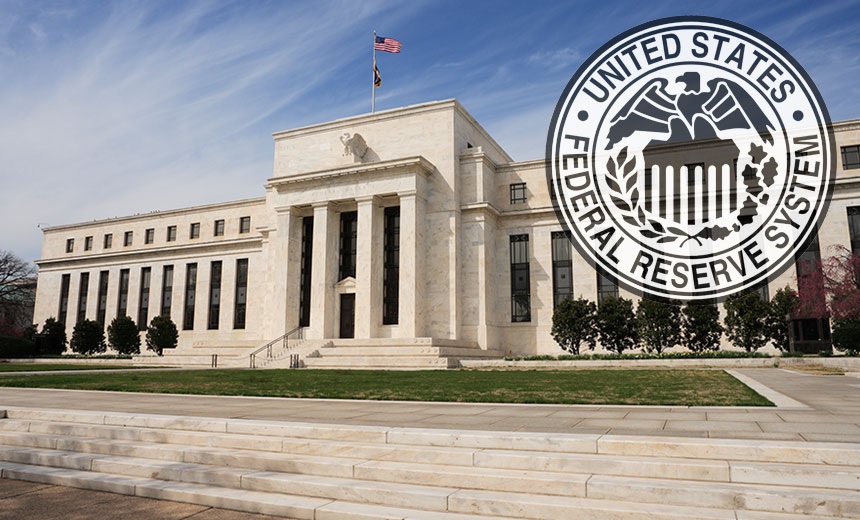 The U.S. Federal Reserve is warning that the increasing use of cryptocurrencies known as "stablecoins," without proper safeguards and regulations, could pave the way for crime, including money laundering and terrorism financing.
See Also: Live Webinar | Cutting Through the Hype: What Software Companies Really Need from ASPM
As part of its November Financial Stability Report, the Federal Reserve highlights the growing use of stablecoins and what effect this form of cryptocurrency is having on financial markets.
Unlike more well-known cryptocurrencies - such as bitcoin and monero - whose market price is based solely on supply and demand, the value of a stablecoins - such as Tether, Facebook's proposed Libra and another proposed offering under development in China - comes from an underlying asset or basket of assets, such as U.S. dollars, euros or even gold.
While the Federal Reserve report acknowledges that stablecoins offer innovation in the global financial payment systems, it notes that without proper regulation and controls, these virtual currencies can lead to financial instability as well as security issues.
"The possibility for a stablecoin payment network to quickly achieve global scale introduces important challenges and risks related to financial stability, monetary policy, safeguards against money laundering and terrorist financing, and consumer and investor protection," the report states.
And while the Federal Reserve report did not offer specific policy recommendations, James Wester, an analyst at IDC who studies cryptocurrency and blockchain, believes that the central bank decided to address this issue because of Facebook's Libra plans.
"What this activity means is that the idea of stablecoins and digital currencies is being looked at seriously and thoughtfully," Wester tells Information Security Media Group. "Thus, policy makers need to understand how they fit into current regulations, or how those regulations may need to adjust to ensure they don't pose risks either systemically or to consumers specifically."
Spotlight on Facebook's Libra
While stablecoins are not new, Facebook's proposed push into the cryptocurrency market with Libra - a type of stablecoin - has raised new interest, as well as concern, about the effect of these types of virtual currencies.
In October, CEO Market Zuckerberg testified before the U.S. House Committee on Financial Services about Libra, facing a range of questions from sceptical lawmakers, including concerns about criminals using the virtual currency as a way to hide illegal transactions (see: Congress Grills Facebook's Zuckerberg on Cryptocurrency Plans).
Some governments are also looking into creating their stablecoins.
For instance, the Chinese central bank has its own stablecoin offering in the works, and analysts are warning that it could have far-reaching effects, especially in emerging markets, according to recent report in Investor's Business Daily.
What makes the initiatives by Facebook and China notable is that they are creating what the Federal Reserve refers to as "global stablecoins," which have the potential for widespread adoption, according to report. But if they become widely used, problems could arise, the Fed warns.
"The inability to convert stablecoins into domestic currency on demand or to settle payments on time could create credit and liquidity dislocations in the economy," according to the Federal Reserve report. "If a stablecoin's credit, liquidity, market and operational risks are managed ineffectively, it could face a loss of confidence. This loss of confidence could lead to a run, where many holders attempt to liquidate their stablecoins at the same time."
Much like other cryptocurrencies, the anonymity associated with stablecoins opens doors to financial crimes, the Fed notes in its report.
"The anonymity often found in stablecoins could be used to obscure financial transparency and facilitate money laundering, terrorist financing, and other financial crimes. Financial institutions are subject to customer due diligence and other anti-money-laundering regulations intended to help detect and disrupt illicit activity. Addressing such vulnerabilities is critical for any stablecoin," according to the report.
Other central banks and global financial regulators have also raised concerns about the rise of stablecoins, especially by private businesses such as Facebook, says David Gerard, author of "Attack of the 50-Foot Blockchain," a book about the rise of cryptocurrency technology and blockchain.
"The Fed's report echoes what the other central banks have said - private stablecoins present a systemic risk if they operate at scale," Gerard tells Information Security Media Group. "The basic problem with a private stablecoin is that it would be managed for a private business, not for the common good. All of this discussion is basically about Libra. One of the red flags with Libra was that they [Facebook] didn't really talk to regulators and didn't seem to quite understand regulators' and bankers' worries."
Push for Regulation
U.S. lawmakers are taking notice of concerns about stablecoins, especially Facebook's Libra.
On Thursday, two U.S. representatives from Texas - Sylvia Garcia, a Democrat, and Lance Gooden, a Republican - introduced a bill that would place Libra and other stablecoins under the jurisdiction of the Securities and Exchange Commission, according to The Hill.
Currently, no federal agency has regulatory oversight over cryptocurrencies. This bill would subject these virtual currencies to some oversight - especially when it comes to anti-money laundering and other laws.
This bill also comes at a time when a stablecoin called Tether is drawing scrutiny from federal agencies over whether it's being used for money laundering and other illegal activity, according to Reuters.
"Money-laundering and evading capital controls seems to be a popular use of Tether - the most common stablecoin in the cryptocurrency world," Gerard says. "I'm not sure how significant this is in the wider world, though - I'm not convinced it's any more than an interesting but a tiny thing. But the authorities do worry about this being furthered."