Federal CIO Council Reorganizes
New Structure Puts Greater Focus on IT Security, ID Management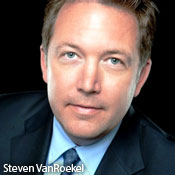 A reorganization of the Federal CIO Council, unveiled Aug. 9, will place a greater emphasis on IT security.
See Also: Live Webinar | Education Cybersecurity Best Practices: Devices, Ransomware, Budgets and Resources
The council will reduce its six committees to three, with the revamped panels focused on information security and identity management, portfolio management and innovation, according to the reorganization plan. Each committee will report to a 14-member executive committee chaired by Steven VanRoekel, the federal chief information officer.
Six months in the making, the reorganized council also will include three communities of practice: privacy, accessibility and the federal IT workforce. Other communities of practice could be formed, if necessary.
"Under the new structure, the CIO Council will become more agile in its approach to supporting key administration priorities and will continue to develop valuable tools, resources and data for federal CIOs and their staffs," a blog posted on CIO.gov says.
Critical Time in Government
The blog says the reorganization occurs at a crucial time in the government, when agencies face tight budgets and their missions require the leveraging of technology to the highest extent possible. "By working within a structure that combines formal committees, short-term agile working groups and communities of knowledge experts, the council will help to address the most relevant and pressing IT issues across the federal CIO community," the blog says.
The executive committee members assigned to head up the Information Security and Identity Management Committee, known as Protect in the new council lingo, are Defense Deputy CIO Robert Carey and Justice Department CIO Luke McCormick.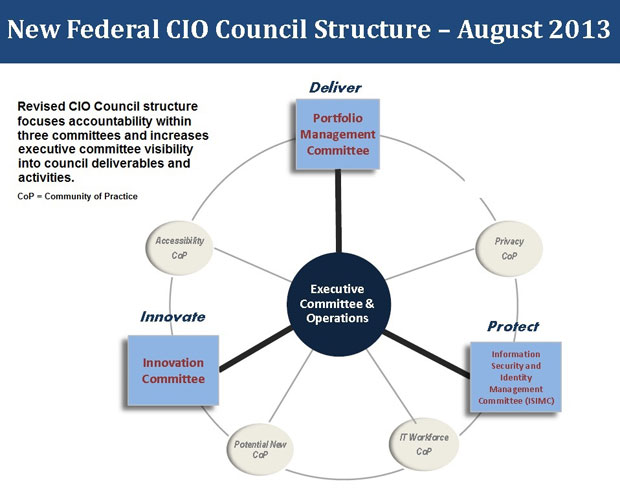 The reconstituted Information Security and Identity Management Committee will meet once a month. Its priorities include extending the Federal Identity, Credential and Access Management roadmap across all security domains; creating concepts of operation for continuous monitoring; supporting security authorizations; and developing the federal cloud credential exchange.
Certain tasks formerly run by defunct committees will be managed by the council staff, including communications and outreach, best practices and knowledge management and administration support and coordination.
Established by law in 2002, the Federal CIO Council is the principal interagency forum on federal agency practices for IT management. Its members include the CIOs and in some instances deputy CIOs of federal government departments and agencies.