FBI Taps New Cyber Division Leader
18-Year FBI Veteran Gordon Snow Helped Draft the CNCI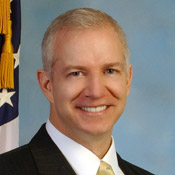 Gordon Snow, an 18-year FBI veteran, is the new director of the agency's cyber division.

Director Robert Mueller tapped Snow, who had been serving as the division's assistant director since November, to lead the FBI's efforts to protect the nation against cyber-based attacks and high-tech crimes. The cyber division is part of the FBI's criminal, cyber, response and services branch.

In a statement announcing Snow's promotion, Mueller characterized cybercrime as the FBI's highest criminal priority.

Following a stint in Afghanistan as the FBI's on-scene commander for counterterrorism, he joined the cyber division in January 2008 as section chief and detailed to the Office of the Director of National Intelligence, National Counterintelligence Executive. During that assignment, he and his staff led the effort in drafting the government-wide Comprehensive National Cyber Initiative.

In January 2009, Snow was appointed as chief of the Cyber Division's Cyber National Security Section and the director of the National Cyber Investigative Joint Task Force.

A Detroit native, Snow graduated from the University of Michigan with a B.A. in English. He earned an MBA with an emphasis in finance from Virginia Tech in 2001 and a law degree from Catholic University in 2006. Snow served more than a decade in the Marine Corps as an enlistee and officer.