Data Loss Prevention (DLP) , Governance & Risk Management
'Explosive' Report Details Alleged Russia-Trump Team Ties
Report Claims Kremlin Possesses Personal, Financial 'Kompromat' on Donald Trump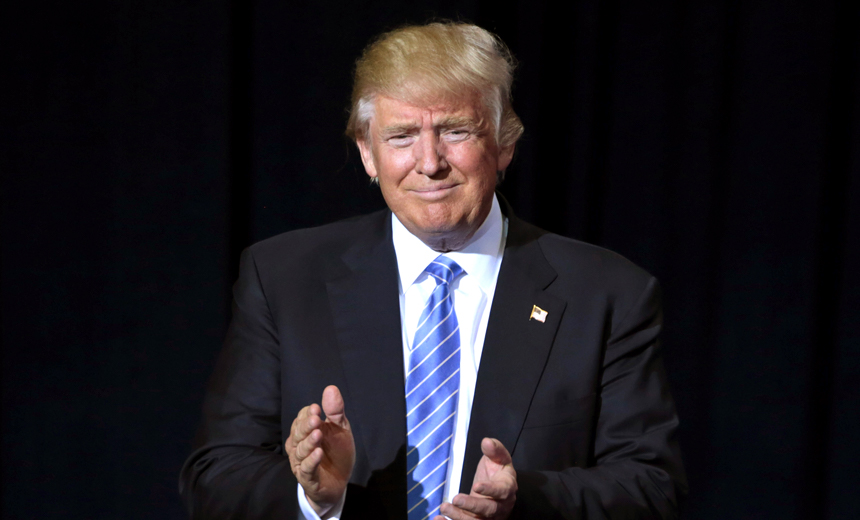 President-elect Donald Trump was briefed last week on a report, prepared by a former Western intelligence official, that includes allegations - none of which have been externally verified - that the Russian government possesses personal and financial information that could be used to blackmail Trump, and that Trump's team has deep ties to the Russian government, multiple sources report.
See Also: Live Webinar | Cutting Through the Hype: What Software Companies Really Need from ASPM
The unclassified, 35-page report had been circulating for months before being published Jan. 10 by Buzzfeed, which labeled the material "unverified and potentially unverifiable."
The report was prepared by a former MI6 official who now works as a private contractor. It alleges that there's a "well-developed conspiracy of cooperation" between Trump and his employees - and now transition team - and "the Russian leadership," including members of Trump's team hiring hackers in the United States and Russia to target Hillary Clinton and other Democrats.
The report also alleges that the Russian government has kompromat - compromising materials - on Trump of a personal and financial nature, including hotel-room videos relating to his allegedly engaging in sexual acts with prostitutes. It adds that the Trump campaign viewed Russia and related hacking reports as a convenient media bogeyman and said that leaks of stolen Democratic National Committee emails were part of a Russian anti-Clinton campaign designed, in part, to drive backers of Democratic presidential candidate Bernie Sanders to the Trump camp.
"FAKE NEWS - A TOTAL POLITICAL WITCH HUNT!" Trump tweeted Jan. 10 after the report became public.
The Russian government has also dismissed the allegations, with Dmitry Peskov, a spokesman for Russian President Vladimir Putin, labeling them "pulp fiction" and claiming that the Kremlin - the country's executive branch - would never seek to gather material that might be used for blackmail purposes.
"The Kremlin has no compromising materials on Trump," Peskov said. "This is absolutely fake information, a fabrication and complete nonsense. The Kremlin does not engage in gathering kompromat."
Subsequently, Trump further dismissed the report Jan. 11 via Twitter: "Russia just said the unverified report paid for by political opponents is A COMPLETE AND TOTAL FABRICATION, UTTER NONSENSE.' Very unfair!"
Unverified Allegations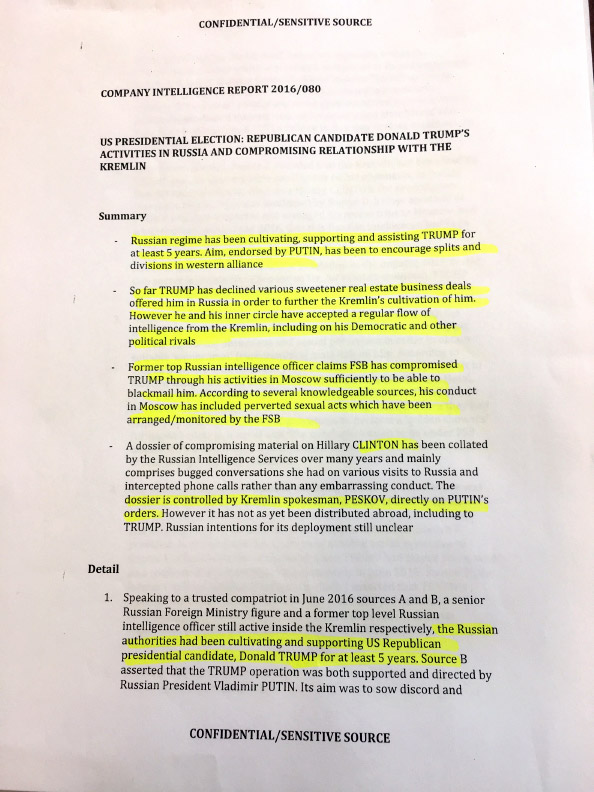 The first page of the newly released report.
But the allegations contained in the report led FBI counter-intelligence investigators to apply for a warrant from the Foreign Intelligence Surveillance court in June 2016, seeking to monitor four members of Trump's team over their alleged ties to Russia, the Guardian reports. The initial application was reportedly rejected by the FISA court for having too broad a focus, but a revised warrant was approved in October, according to one report, but that has not been confirmed.
FBI Director James Comey, testifying before Congress on Jan. 10, declined to comment on whether the bureau launched a related investigation.
None of the individual allegations in the report have been verified, and multiple journalists and security experts say they have had the documents it contains in their possession for weeks, but chose to not publish them since they couldn't be independently verified.
Even so, the report was referenced in a two-page memorandum delivered to Trump during a Jan. 6 classified briefing that detailed alleged Russian hacking designed to influence the U.S. election, multiple news sources report. The briefing was delivered by four top intelligence chiefs - Director of National Intelligence James Clapper, CIA Director John Brennan, NSA Director Admiral Mike Rogers and the FBI Director Comey.
The allegations contained in the report were considered serious enough that President Barack Obama was also reportedly briefed, according to the blog Lawfare, which also noted that Trump had consistently rejected U.S. intelligence reports that Russia was using hacking and data dumps in an attempt to influence the U.S. election (see Intelligence Report Blames Putin for Election-Related Hacks).
Citing people familiar with the investigation, The Wall Street Journal reports that intelligence agencies decided to brief Trump on the allegations, prior to his taking power, out of an abundance of caution. It adds that the former intelligence official who wrote the reports works for a private contractor that has been hired by both Democrats and Republicans to investigate Trump.
Effort to Defuse Potential Blackmail?
Briefing Trump on the report - and its subsequent public release, just 10 days before Trump's inauguration - may be an attempt "to reduce [the] risk of blackmail," according to Thomas Rid, a professor of security studies at King's College London. But he stressed that just because the intelligence community is reporting investigating the allegations doesn't mean that the allegations are true. He added that each of the alleged activities detailed in the report could now be investigated and individually either proven or disproven.
Note that briefing the president-elect on rampant rumors & wild kompromat claims IS NOT THE SAME as considering these rumors to be credible

— Thomas Rid (@RidT) January 11, 2017
While the former intelligence official who prepared the report is well-regarded, some errors in individual allegations have already been found, the Guardian reports. For example, the report misspells the name of a Russia's Alfa Group bank as "Alpha Group" and also describes Barvikha, an expensive Moscow suburb, as "reserved for the residences of the top leadership and their close associates," when in fact there are no such restrictions, the Guardian reports.
The report also detailed an alleged clandestine meeting between longtime Trump lawyer Michael Cohen and Kremlin officials in October 2016 in Prague, during which they discussed making "deniable cash payments" from the Trump team and the Kremlin to "Romanian hackers" they hired to target Democrats.
"I have never been to Prague in my life," Cohen claimed via Twitter, including a photograph of the cover of a U.S. passport. But as a subsequent flurry of tweets highlighted, he failed to share any interior pages from his own passport that might substantiate his claim. Furthermore, EU border control officers don't always stamp visitors' passports and once inside any EU member state, Cohen would have been free to travel to any other EU member state without passing through any border checkpoints.
Congress Saw 'Explosive Information'
Citing unnamed sources, CNN says that the newly released report contains documents on which Congressional leaders were briefed last year, prompting then-Senate Democratic Leader Harry Reid, D-Nev., to write a letter to Comey on Oct. 30, 2016, alleging that the national security community possessed "explosive information about close ties and coordination between Donald Trump, his top advisors and the Russian government - a foreign interest openly hostile to the United States."
Reid added: "The public has a right to know this information."
Reached for comment on the report's release, Reid spokesman Adam Jentleson re-shared the letter on Jan. 10, telling CNN: "Sen. Reid's letters and statements speak for themselves."
The same report was shared with Comey last year - reportedly in December 2016 - by Sen. John McCain, R-Ariz., who said in a Jan. 11 statement: "that has been the extent of my contact with the FBI or any other government agency regarding this issue." This suggests that McCain, who heads the Senate Intelligence Committee, was unaware that U.S. intelligence agencies and the FBI already possessed the documents.
FBI Director Comey: No Comment
Testifying Jan. 10 before the Senate Intelligence Committee, Comey declined to comment on whether the FBI had launched a related investigation. "I would never comment on investigations - whether we have one or not - in an open forum like this, so I really can't answer one way or another," Comey said.
His response drew a rebuke from some lawmakers, who noted that Comey had previously issued public pronouncements related to the FBI's investigation into Hillary Clinton's private email server.
"The irony of your making that statement here - I cannot avoid," Angus King, I-Maine, told Comey.
"Sometimes we think differently about [detailing] closed investigations," Comey responded.
FBI Says RNC Was Hacked
But Comey did refute claims by Trump's team that while the Democratic National Committee had fallen victim to Russian hack attacks due in part to its poor cybersecurity practices, the Republican National Committee and its exceptional cybersecurity acumen had repelled them. "There were successful penetrations of some groups and campaigns, particularly at the state-level, on the Republican side," Comey told the Senate Intelligence Committee.
But he added that while information was harvested from old domains, it was outdated, adding: "We did not develop any evidence that the Trump campaign or the current RNC was successfully hacked."