Artificial Intelligence & Machine Learning , Biometrics , Governance & Risk Management
EU Likely to Drop Plan to Ban Facial Recognition
Concerns About the Use of the Technology in Public Places Persist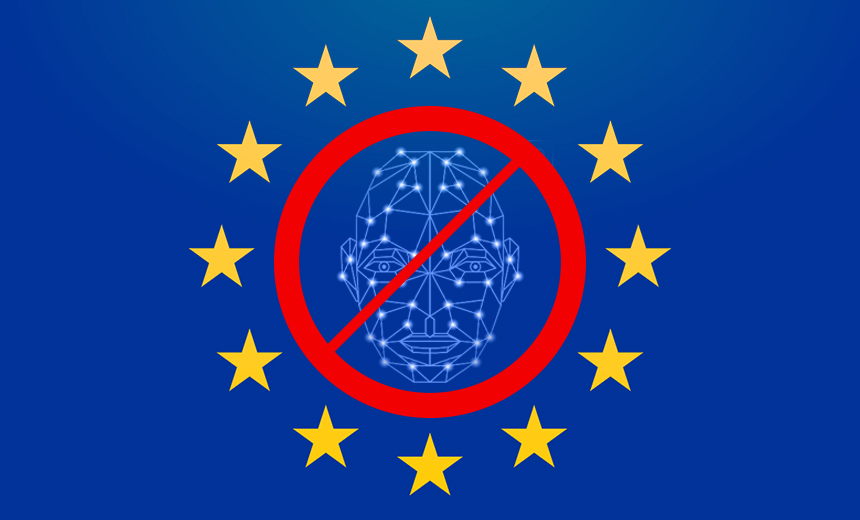 The European Union appears to be moving toward dropping a temporary ban on the use of facial recognition technology in public places, according to news reports.
See Also: Live Webinar Tomorrow | Cyber Resilience: Recovering from a Ransomware Attack
The European Commission had earlier said it was considering a temporary ban of up to five years so it could work out ways to prevent abuses and protect user privacy for citizens who have not given consent. The commission declined to provide a comment on its pending decision about facial recognition technology. It plans to make a Feb. 19 presentation on how it will regulate the use of artificial intelligence, a source familiar with the plans tells Information Security Media Group.
Practical Decision
Some technology experts had said that a temporary ban on the use of facial recognition in public places would be impractical and ineffective. They argued that a five-year ban is impractical because the technology will evolve rapidly and by the time the EU comes up with guidelines, they will no longer be relevant.
"The EU's revised decision is a smart one," says Steven Feldstein, an associate professor in the school of public service at Boise State University in Idaho who recently released a report on AI surveillance.
"Focusing on ways to build in safeguards in facial recognition systems without resorting to a full-scale multiyear ban is much more pragmatic and reasonable," he says. "It is a far better alternative to putting in place a blanket moratorium, which would essentially take EU priorities out of the picture when it comes to the continued development of facial recognition systems."
Feldstein adds: "There are numerous methods that exist that use the mass collection of data, organized by algorithms, to render judgments that affect people's lives. Simply focusing in on one type of technology fails to address underlying associated problems. Already, EU companies lag when it comes to supplying this technology. I wouldn't want to see an important regulatory body like the EU Commission purposely remove itself from relevance - especially because I think their voice matters very much in this debate."
Don't Ban, But Regulate
Felicien Vallet, privacy technologist at CNIL (Commission Nationale de l'Informatique et des Libertés), France's data protection authority, offers a similar point of view: "Focusing on one particular identification method gives a very skewed picture of the nature of surveillance we as a society are subjected to," he says.
"At CNIL, we are not in favor of government using facial recognition anywhere and everywhere. However, we understand that the technology has its pros, and hence we are not looking at a complete ban on this. It certainly depends on the application of facial recognition."
Calling for the EU to follow through with dropping the ban he says: "What is needed is proper guidelines on its use. And I am sure the EU will come out with proper regulations, which will hopefully address various privacy concerns."
Xeno Acharya, an AI expert at PA Consulting, the global innovation and transformation consultancy, adds: "AI implementation, in particular, is messy because it comes with all these ethical challenges. There certainly need to be regulations in place."
Action in Other Regions
Last year, the U.S. cities of San Francisco and San Diego banned the use of facial recognition by law enforcement in public places. And many U.S. Democratic presidential candidates support at least a partial ban on the technology.
In Germany, the country's interior minister, Horst Seehofer, dropped plans for facial recognition systems in 134 German railway stations and 14 airports.
Meanwhile, London police on Jan. 24 announced the start of the use of this technology in several public places. Its implementation has been approved by the U.K.'s National Police, which believes that its targeted and well-administered use would comply with data protection legislation.
In India, the National Crime Records Bureau, which is under the Union Home Ministry, has floated a plan for an automated facial recognition system to be used by law enforcement authorities, arguing that it would aid in the "identification of criminals, missing children/persons, unidentified bodies and unknown traced children/persons."
Concerns About Facial Recognition
Alphabet and Google CEO Sundar Pichai had voiced his support for the temporary ban in the U.K., arguing it would allow time to carefully assess the risks.
Rahul Sharma, country president, India, at the International Association of Privacy Professionals, notes: "The biggest challenge is ensuring data privacy of people, as the data garnered through biometrics is vulnerable and can be commercially exploited and sold if there is not tighter security controls and it's not governed appropriately."
A major concern is that facial recognition data gathered might be used by the government for research or offered for sale for use by private industry without permission, he says.
Regulations Needed?
In a New York Times opinion piece, Bruce Schneier, fellow at Harvard Kennedy School, argues that instead of banning use of any technology, nations should adopt stronger regulations governing how data gets collected.
"The problem is that we are being identified without our knowledge or consent, and society needs rules about when that is permissible," he writes. "Similarly, we need rules about how our data can be combined with other data, and then bought and sold without our knowledge or consent."