DHS's Mark Weatherford Resigning
Homeland Security's Cybersecurity Leader to Join Consultancy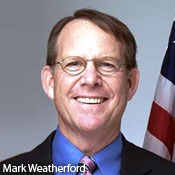 Deputy Undersecretary for Cybersecurity Mark Weatherford is leaving the U.S. Department of Homeland Security on April 12 to become a principal at the Chertoff Group, a global security advisory firm.
See Also: 57 Tips to Secure Your Organization
The company, in a statement, says Weatherford's first day at the firm founded by former DHS Secretary Michael Chertoff will be May 1. Weatherford joined DHS in November 2011, more than two years after Chertoff left office.
Bruce McConnell, a DHS senior counselor for cyber, will serve as acting deputy undersecretary after Weatherford leaves.
In an e-mail sent to his colleagues at DHS's National Protection and Program Directorate, Weatherford wrote that he was excited about the challenges of taking on the just-created position when he joined the department in 2011. "I can say with very little hesitation that the challenge - certainly one of the biggest professional opportunities of my life - was not disappointing," he said.
Weatherford said he was particularly proud of the realignment of the Office of Cybersecurity and Communications. "This single effort has resulted in a more efficient organization capable of greater operational agility and has truly focused the cybersecurity and communications efforts of the federal government," he said.
Other accomplishment he mentioned in the message included the acceleration of the Einstein 3 intrusion prevention program, new continuous diagnostics and monitoring initiatives and bringing attention to the critical relationship between cybersecurity and physical security.
"Most significantly however, we have highlighted the importance of developing a world-class cyber workforce necessary to meet the security and economic needs of the nation," he wrote his colleagues. "These are phenomenal accomplishments."
In an interview with Information Security Media Group at last month's RSA security conference, Weatherford discussed the challenges of finding qualified IT security pros to hire, confessing that he hasn't been bashful about raiding other federal government agencies to build DHS's IT security staff [watch DHS's Weatherford on Cybersecurity Workforce] .
Undersecretary Rand Beers, Weatherford's boss, in a message to DHS employees said Weatherford's leadership of his team proved crucial during the realignment of the Office of Cybersecurity and Communications, which ultimately increased operational effectiveness and reduced business redundancies. "Mark is a living testament to the DHS mantra that cybersecurity is a shared responsibility," Beers said.
Before joining DHS, Weatherford was vice president and chief security officer at the North American Electric Reliability Corp., where he directed the cybersecurity and critical infrastructure protection program at the bulk electrical power transmission industry trade group. Weatherford previously served as the chief information security officer for the states of California and Colorado.
* * *
Correction: In an earlier version of this story DHS Undersecretary Rand Beer was incorrectly identified as Randy Beer.