DHS to Consolidate Public Websites on Cloud
Move Aimed at Cutting Costs, Complying with Cloud First Policy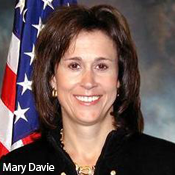 The Department of Homeland Security has become the first federal agency to award a task order using a General Services Administration's blanket purchase agreement for an infrastructure-as-a-service, cloud-computing offering.

GSA Assistant Commissioner Mary Davie, in a blog posted Thursday, reveals that DHS awarded a five-year, $5 million contract to CGI Federal Inc., one of four companies that have been granted a so-called authority to operate that allows them to provide cloud services to federal agencies.

Under the agreement, DHS will consolidate and migrate many of its primary public websites to the cloud to reduce costs and comply with the Obama's administration's Cloud First policy, instituted last February by then Federal Chief Information Officer Vivek Kundra (see Kundra Eyes 25% of Fed IT Spend on Cloud Services).

Davie says GSA is working with eight other vendors to complete the authority of order process by year's end. She says authorities to operate adhere to processes detailed in two National Institute of Standard and Technology special publications, SP 800-37 and 800-53 Revision 3. The authorities can be accepted by any federal agency for cloud storage, virtual machines and web hosting at the Federal Information Security Management Act's moderate impact level or lower. The authorities demonstrate that customers using these services meet federal cybersecurity requirements, she says.

"The flexibility of our BPA gives federal, state, local and tribal governments faster, easier access to a host of infrastructure," Davie says, "greatly reducing infrastructure maintenance costs and make government more efficient and cost effective."