DHS Taps Energy CIO for Senior Infosec Post
Locatis Named Asst. Secy. for Cybersecurity & Communications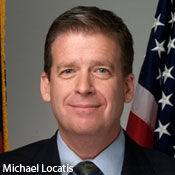 Energy Chief Information Officer Michael Locatis will become Homeland Security's assistant secretary for cybersecurity and communications.
See Also: Live Webinar | How To Meet Your Zero Trust Goals Through Advanced Endpoint Strategies
He replaces Greg Schaffer, who left DHS's National Protection and Programs Directorate in March. Bobbie Stempfley, who has served in the interim as acting assistant secretary, will return to her role as deputy assistant secretary.
Few top IT security executives who joined DHS at the beginning of the Obama administration remain. Locatis is the latest high-profile IT security leader moving to the directorate in recent months, including Deputy Undersecretary Mark Weatherford (Weatherford Named DHS Cybersec Leader) and former State Department Deputy CIO John Streufert, the director of DHS's National Cybersecurity Division (see State Department's Streufert Moves to DHS).
"Mike brings a wealth of experience in information management, cybersecurity and public safety communications at all levels of government," Weatheford wrote in a DHS blog. "In his new role, Mike will work collaboratively with public, private and international partners to ensure a safe and secure cyberspace with a focus on protecting federal and critical infrastructure networks. Mike and his team will also coordinate and provide support for a resilient communications system for federal, state, local, tribal and territorial governments and critical infrastructure personnel."
Locatis, like Weatherford, worked in senior IT positions in California and Colorado. Locatis served as Colorado's CIO and California's deputy CIO. He also served as Denver's CIO. Weatherford was chief information security officer in both states.
DHS's Office of Cybersecurity and Communications is responsible for enhancing the security, resiliency and reliability of the nation's cyber and communications infrastructure, and engages the public and private sectors as well as international partners to prepare for, prevent and respond to catastrophic incidents that could degrade or overwhelm strategic digital assets.