DHS Losing a Senior Cybersecurity Leader
Michael Locatis Departs After Nine Months on the Job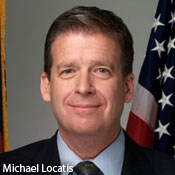 Michael Locatis, assistant secretary for the Office of Cybersecurity and Communications in the Department of Homeland Security, has resigned, effective Jan. 18, nine months after he took the job.
See Also: New Approaches to Solving the Cybersecurity Talent Shortage
Deputy Assistant Secretary Bobbie Stempfley, who temporarily held the assistant secretary post when it was last vacant, will again fill in until a permanent replacement is found.
DHS Undersecretary Rand Beers, in a letter to employees, didn't give a reason for Locatis' departure, but wrote that he's disappointed to see Locatis leave the department for Colorado, where his family lives. Locatis, in Washington for the past three years, served as chief information officer at the Energy Department before joining DHS last spring [see DHS Taps Energy CIO for Senior Infosec Post].
Beers said Locatis' leadership proved instrumental as DHS realigned the Office of Cybersecurity and Communications into a structure more capable of agile operations, of forming stronger partnerships and of efficiently and effectively enhancing the security, resiliency and reliability of the nation's cyber and communications infrastructure.
Like one of his DHS bosses, Deputy Undersecretary Mark Weatherford, Locatis held senior IT positions in California and Colorado before moving to Washington. Locatis served as Colorado's CIO and California's deputy CIO. He also served as Denver's CIO. Weatherford was chief information security officer in both states.
Locatis was one of several top IT and IT security officials recruited from other agencies by Weatherford to foster DHS's cybersecurity leadership [see Building DHS's All-Star Cybersecurity Team].
DHS's Office of Cybersecurity and Communications engages the public and private sectors as well as international partners to prepare for, prevent and respond to catastrophic incidents that could degrade or overwhelm strategic digital assets.