Details on VA's Mobile Device Mgt. Plan
Apps Store Also in the Works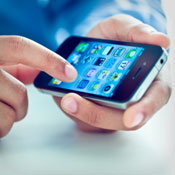 The Department of Veterans Affairs is revealing more details about the cloud-based mobile device management system it soon will implement.
See Also: Live Webinar | Breaking Down Security Challenges so Your Day Doesn't Start at 3pm
A $4.4 million "task order" contract for the enterprisewide system was awarded to LongView International Technology Solutions Inc., doing business as FirstView Federal Technology Solutions, VA spokesperson Jo Schuda says. The system will support up to 100,000 mobile devices, including VA-owned and personally-owned tablets and smart phones from a variety of vendors (see: VA Awards Mobile Device Mgt. Contract.)
Schuda says that FirstView will:
Develop and implement a mobile device management system as well as a cloud-based app store. When VA CIO Roger Baker announced plans to ramp-up use of mobile devices last fall, he noted the VA ultimately would offer its own apps store to provide VA-approved medical applications.
Establish a cloud computing environment within a FISMA-"High" Certified FDC Cloud Environment designed to protect sensitive data against external threats;
Develop and implement a commercial standard, cloud-based mobile application development and production environment within the cloud computing environment.
LongView is a service-disabled veteran-owned small business, specializing in federal health IT, enterprise transformation, national security and intelligence community support, the VA spokesperson says. In 2011, LongView, doing business as FirstView, was awarded one of 16 prime contracts issued for the VA Transformation Twenty-One Total Technology acquisition program, known as T4. The program was established for purchasing IT-related products and services.
Among other VA related contracts issued to LongView/FirstView in recent months was a May task order award to provide the Veterans Health Administration an information technology-based "health management platform." Also in May, LongView was issued a five-year, multi-award, prime contract to develop new information technology systems for the Military Health System's Pacific Joint Information Technology Center on Maui. That contract was awarded to LongView by TRICARE Management Activity, the military health plan.
Essential Security Step
Baker has said the mobile device management system will be essential to ensuring security when using mobile devices to access the VA's clinical information system.
In recent months, the VA has been testing a smaller MDM system supporting about 1,500 devices that was also provided by FirstView, says Satish Unni, an official at FirstView who declined to provide additional comment or details.
When he unveiled plans for ramping up the use of mobile devices at the VA last year, Baker noted: "We really see a substantial clinical use for the newer mobile devices, and I would expect to see, in the long run, a phase out of desktop computers and a phase in of mobile walk-around type devices."