Cybersecurity Bottleneck: Few PhDs
Dearth of Teachers Hamper Training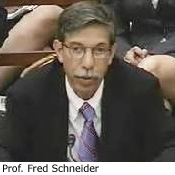 A barrier to train needed cybersecurity professionals to protect government IT systems is a dearth of PhDs to teach information security at the nation's colleges and universities.

"A major capacity building bottleneck that affects all levels of educational and research needs is the production of PhDs in this area," said Seymour Goodman, professor of international affairs and computing at the Georgia Institute of Technology.

Goodman, in testimony presented this week to Congress, pointed out that the few PhDs working as cybersecurity educators and researchers are either newly minted or converts form other fields. "Building the doctoral ranks takes time," he said.

Cornell University Computer Science Professor Fred Schneider told Congress that most university computer science programs lack the faculty to offer relevant cybersecurity courses. "Even if a CS department has managed to hire a few cybersecurity specialists, they will likely also be involved in teaching the large complement of other classes that need to be covered by a department giving undergraduate and graduate CS degrees," he said.

It's not just a lack of qualified teachers, but identifying the right content to teach. "The field is relatively young and fast moving; there is not yet widespread agreement about what technical content must be covered," Schneider said.

Because of the fast-moving pace of technology, textbooks and teaching materials must be frequently revised, which Schneider contends is a disincentive to some authors, resulting in few good textbooks compared with other fields.

Still, Schneider cautions Congress from legislating curriculum. "It would retard the dissemination of new ideas to students and it would discourage faculty from writing texts that reflect improvement in our understanding of the field," he said.

How can the nation increase the number of PhDs? Goodman cites the National Science Foundation Scholarship for Service Program that provides some support for universities to build their faculty and curriculum to offer concentrations in information security and assurance. Till now, he said, the program primarily provides up to two year scholarship support to U.S. citizens in the best of these programs who must work in the federal government for at least the same number of years as they were supported by the scholarship.

Both professors testified Wednesday before the House Committee on Science and Technology's Subcommittee on Research and Science Education.