Cyber Scholarship to Require More Work
3-Year Added Commitment for Ph.D. Students Receiving Financial Aid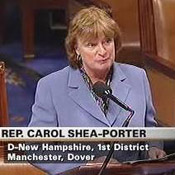 The proposed Federal Cyber Scholarship for Service Program just got more expensive for student scholars, in terms of time they'd be required to work for the federal government in exchange for the financial aid.
The House Tuesday by a voice vote approved an amendment to the Cybersecurity Enhancement Act, HR 4061, that would increase by one year for undergraduate students, two years for master degree students and three years for doctoral candidates the minimum time they must remain as government employees to receive federally funded scholarships.
The Congressional Budget Office placed a $94 million price tag on the Federal Cyber Scholarship for Service Program for 2010 through 2014. And Rep. Carol Shea-Porter pointed out the cost to taxpayers is more than just scholarship money. "Graduate students in cybersecurity programs need to have security clearances, and most students will need clearance before beginning work in the field for the federal government," said Shea-Porter, the New Hampshire Democrat who sponsored the amendment. "The cost of a clearance, which is a pricy $15,000, is an investment by the taxpayers and should be recovered by the federal government through an extension of service."
A shortage of cybersecurity specialists in government served as the catalyst for the program, aimed at students studying IT security. The bill, before the amendment, would have required a year of government employment for each year a student received a scholarship.
Shea-Porter said it's fair to scale the work commitment according to degree because doctoral or master degree holders with security clearances are more valuable than bachelor-degree recipients with security clearances.
Extending the work requirement also would slow the movement from government to business and promote the retention of valuable employees. "These employees would have security clearance, which is generally good for 10 years, (so) they may be tempted to take their expertise into the private sector where they can make higher salaries," Shea-Porter said. "This amendment will prevent this valuable program from being used solely as a bridge to private industry. ... It's a good deal for the government and the students, and represent a wise use of taxpayers funds."
The House approved two other amendments dealing with the scholarship program. One would add veteran status as an additional item for consideration when selecting students for scholarships, which would be administered by the National Science Foundation. The other would allow scholarship recipients to serve internships with businesses before they get their degrees.
The House was scheduled to vote on the entire bill Wednesday, but discussions on 25 amendments - all approved - took up the allotted time, so debate and vote on HR 4061 were rescheduled for Thursday.
If approved, as expected, the bill would go to the Senate for its consideration.