Curtain Call: Reitinger Before Congress
Senate Committee to Explore Obama's Legislative Infosec Package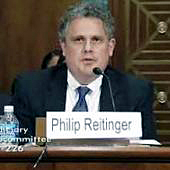 One of Philip Reitinger's last official acts as the top cybersecurity executive at the Department of Homeland Security will be to testify before Congress.

Reitinger, who earlier this week announced his resignation as deputy undersecretary of DHS's National Protection and Programs Directorate effective June 1 (see Reitinger Resigns Top DHS Cybersecurity Post), will testify at a hearing - Protecting Cyberspace: Assessing the White House Proposal - Monday of the Senate Homeland Security and Governmental Affairs Committee.

Reitinger has frequently appeared before Congress to present the Obama administration's view on cybersecurity matters.

Other government officials to testify will be Robert Butler, Defense Department deputy assistant secretary for cyber policy; Jason Chipman, senior counsel to the deputy attorney general; and Ari Schwartz, senior internet policy advisor at National Institute of Standards and Technology.

On May 12, the White House, as part of a comprehensive legislative package, proposed reforming the Federal Information Security Management Act by formalizing DHS's role in managing cybersecurity for the federal government's civilian computers and networks (see White House Unveils Comprehensive Legislative Agenda).

The administration proposed set of bills also calls for a federal data breach notification law (see Obama Offers Breach Notification Bill) and criminal penalties for cybercrimes. Besides establishing a new framework aimed at protecting individuals' privacy and civil liberties, the White House proposal would codify practices that allow DHS to help states and businesses respond to cyberattacks and provides immunity to organizations that share cybersecurity information with DHS.