Cybercrime , Fraud Management & Cybercrime , Fraud Risk Management
COVID-19-Related Fraud: 474 Charged So Far
Prosecutors: Fraudsters Tried to Swindle More Than $569 Million Over 12 Months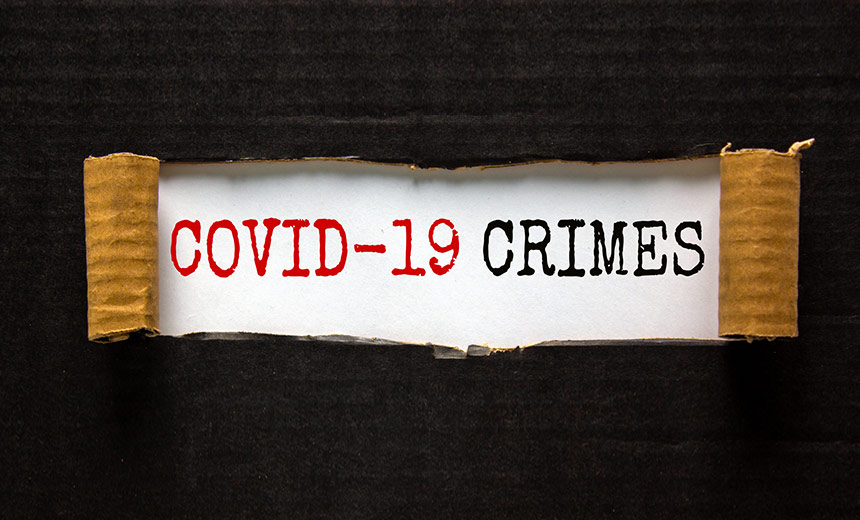 Over the last 12 months, federal prosecutors have charged 474 suspects with trying to steal more than $569 million through COVID-19-related fraud schemes, including attempts to swindle the Paycheck Protection Program for small businesses, the Department of Justice announced Friday.
See Also: OnDemand | Understanding Human Behavior: Tackling Retail's ATO & Fraud Prevention Challenge
In addition to criminal attempts to defraud government economic relief programs, other schemes used spoofed or fake websites and domains to trick individuals into buying faulty or defective products, including fake COVID-19 vaccines.
"The department has also worked to shutter hundreds of fraudulent websites that were facilitating consumer scams, and it has taken scores of actions to disrupt financial networks supporting such scams," the Justice Department states in its announcement. "The department is also coordinating with numerous agency partners to prevent and deter vaccine-related fraud."
Besides investigating scams in the U.S., the DOJ says its International Computer Hacking and Intellectual Property division is working with overseas law enforcement agencies to investigate and prosecute global fraud related to the pandemic. This international effort has included takedowns of spoofed domains.
Growing Fraud Concerns
The annual Internet Crime Report that the FBI's Internet Crime Complaint Center released earlier this month showed the bureau had received more than 28,500 complaints pertaining to COVID-19 fraud in 2020 (see: Internet-Enabled Crime: 2020 US Losses Exceed $4.2 Billion).
The FBI noted in that report that many of these fraud schemes involved attempting to make fake claims under the Coronavirus Aid, Relief, and Economic Security - aka CARES - Act, a $2.2 trillion measure signed by former President Donald Trump that's designed to help small businesses and provide relief to individuals. Agents also found that fraudsters used phishing attacks to steal personally identifiable information, which some organizations and individuals discovered when they tried to apply for funds that someone else had already claimed in their name.
President Joe Biden recently signed the $1.9 trillion American Rescue Plan, which also includes money for many of the same federal programs that have been targeted by fraudsters and cybercriminals.
Earlier this month, security firms Barracuda Networks and Kaspersky highlighted several COVID-19 fraud schemes, including botnet attacks that potentially are contributing to vaccine appointment website crashes, a rise in phishing scams promising access to vaccines and dubious vaccines being offered for sale on the darknet (see: Fraudsters Devise More COVID-19 Vaccine Schemes).
Three Dominant Fraud Categories
The Justice Department, in its Friday update, says COVID-19 fraud schemes generally targeted three relief programs:
Paycheck Protection Program fraud: The Fraud Section of the DOJ's Criminal Division has charged more than 120 suspects with attempting to swindle funds from a subsidized loan program regulated by the U.S. Small Business Administration.
In some cases, business owners have inflated their payroll expenses to obtain larger loans than they otherwise could receive. In others, fraudsters revived dormant corporations or purchased shell companies with no actual operations in order to apply for loans. Organized criminal networks also attempted to submit identical loan applications and supporting documents under the names of various companies.
In one case from Texas, a suspect allegedly applied for 15 PPP loans from eight lenders to attempt to secure loans worth more than $24 million. Prosecutors allege the suspect then used about $17.3 million of the money to buy homes, jewelry and luxury vehicles.
Economic injury disaster loans: This program was designed to provide loans to small businesses and agricultural and nonprofit entities. Fraudsters created shell companies or used nonexistent businesses to apply for loans and divert them to themselves.
Unemployment insurance: Since the beginning of the pandemic, more than $860 billion in federal funds have been appropriated for unemployment insurance benefits through September 2021. Over 140 suspects have been charged with falsely obtaining unemployment insurance benefits.
Countermeasures
While federal prosecutors and the FBI continue to investigate these cases, security experts say the federal government can cut down on fraud by applying cybersecurity measures, such as biometrics for verifying identities, artificial intelligence to pinpoint unusual benefits applications and fraud-fighting cooperation between the public and private sectors (see: Fighting Fraud in COVID-19 Relief Programs).