Compelling Cybersecurity "Czar" to Testify
Measure: Non-Cooperation with Congress Means No Funding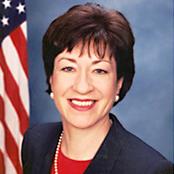 A Senate amendment has been introduced by Sen. Susan Collins, R.-Maine, to compel President Obama's cybersecurity coordinator and other so-called 'czars' to testify before Congress or face losing funds for their offices.

The measure, cosponsored by three other Republican senators, was offered as an amendment to an Interior Department appropriations bill and targets presidential appointees who are neither confirmed by the Senate nor have their positions defined by law, and who have responsibilities to develop or coordinate interagency rules, regulations or policies.

Collins, the ranking member of the Senate Homeland Security and Governmental Affairs Committee, said she and her colleagues have identified at least 18 new 'czars' to manage some of the most complex issues facing our country, including cybersecurity. "'Czar' positions within the Executive Office of the President are largely insulated from effective congressional oversight," Collins said in a Senate floor speech on Tuesday.

According to the amendment, funding would be provided only after the president certifies to Congress that such officials will respond to reasonable requests to testify before or provide information to congressional committees with the appropriate oversight. To get the funding, the officials also would need to submit biannual reports on their activities and actions to each congressional committee with appropriate jurisdiction.

The amendment would not have an impact on a job such as the one held by Federal CIO Vivek Kundra. The post of administrator for e-government and IT - its official moniker -- doesn't require Senate confirmation because it was created as part of the E-Government Act.

But the amendment would affect the cybersecurity coordinator position, a job created without Congressional approval. Obama announced his intention to name a cybersecurity coordinator - a job some call "cybersecurity czar," but a term disavowed by the White House - in late May. It remains vacant.

In many situations, presidential advisers who are not confirmed by the Senate are not compelled to testify under a tradition known as executive privilege, which allows the president to receive private advice from key counselors -- a situation Collins doesn't necessarily oppose. "Presidents are entitled to rely on experts who serve as senior advisers," she said.

But, Collins said, "the appointments of so many czars have muddied the waters, causing confusion and risking miscommunication going forward. We need to know, with clarity: Who is responsible for what? Who is in charge - the czar or the cabinet official? Who can Congress and the American people hold accountable for government policies that affect daily life?"