Blockchain & Cryptocurrency , Next-Generation Technologies & Secure Development
Coinbase Contracts With DHS for Blockchain Analytics
Crypto Exchange Also Scraps Plans for Lending Program Amid SEC Pushback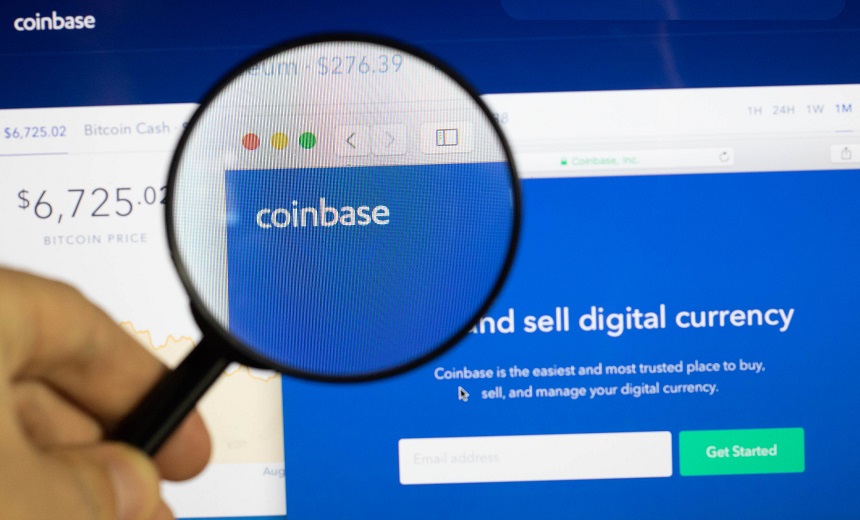 U.S.-based cryptocurrency exchange Coinbase has contracted with the U.S. Department of Homeland security to provide its blockchain monitoring software, Coinbase Analytics, according to tracking site USAspending.gov. The value is $455,000 for one year, which can extend to $1.4 million total through 2024. It went into effect Thursday.
See Also: LIVE Webinar | Stop, Drop (a Table) & Roll: An SQL Highlight Discussion
The analytics software will be used by the DHS Immigration and Customs Enforcement agency, or ICE, which is charged with protecting the U.S. from cross-border crime. It could represent the exchange's largest government contract to date, according to Tech Inquiry, which maps government subcontracting networks.
Coinbase, the nation's largest digital asset platform, previously provided services to DHS, including the Secret Service, the Internal Revenue Service and the FBI. Maximum ceilings on those agreements ranged from $29,000 to $695,000.
In a notice of proposed action, DHS contracting officer Tracy Riley says the software will support the computer forensics services of its Cyber Crimes Center. Riley writes that Coinbase "is the only vendor who can provide the licenses required by the agency" and that limited information will be provided publicly.
ICE officials did not immediately respond to Information Security Media Group's request for additional information.
Commenting on the DHS contract, cryptocurrency and blockchain expert Neeraj Agrawal, the director of communications for Coin Center, a nonprofit think tank focused on crypto policy issues, says, "What this signals to me is yet another indicator that law enforcement does have access to tools that help them achieve their objectives while working in the cryptocurrency space."
Prior Activity
Coinbase's analytics platform stems from its March 2019 acquisition of Neutrino. That move drew the ire of the crypto community, as the company was reportedly formed by members of the Italian spyware company Hacking Team, which was said to have sold its product to authoritarian regimes in Saudi Arabia, Sudan and Venezuela, in part to spy on journalists, according to Decrypt.
Though Coinbase CEO Brian Armstrong reportedly sacked an unspecified number of Hacking Team members, he later said in a podcast that Coinbase "failed to do its due diligence," according to the Decrypt report.
Coinbase later began selling its analytics software to the aforementioned agencies.
Taking to Twitter following the latest announcement, Alex Gladstein, chief strategy officer for the global nonprofit Human Rights Foundation, says, "This isn't very much money for Coinbase in the grand scheme of things. Strange that they would risk so much reputationally for such a relatively small sum."
A Coinbase spokesperson declined further comment on the deal.
Ross Rustici, former technical lead for the U.S. Department of Defense, tells ISMG, "The DHS contract is an attempt to enable law enforcement actions similar to the recovery of funds that happened in the Colonial Pipeline attack and track malicious activity through an otherwise opaque ecosystem."
SEC Action?
Meanwhile, Coinbase has continued its public spat with the Securities and Exchange Commission, after the latter threatened to sue Coinbase for its planned crypto lending product, Coinbase Lend, initially scheduled to release this year. The program included a 4% annual percentage yield on USD coin - which is pegged to the U.S. dollar.
But the exchange has tabled its plans to launch the product. In an update to a June 29 blog entry late Friday, the exchange wrote, "As we continue our work to seek regulatory clarity for the crypto industry as a whole, we've made the difficult decision not to launch the USDC APY program. We have also discontinued the waitlist for this program as we turn our work to what comes next."
Beginning with a viral Twitter post from Coinbase's Armstrong earlier this month, the exchange expressed its disdain for the SEC's oversight, saying the regulator had displayed "sketchy behavior."
The SEC reportedly threatened to sue the company, which has attempted to diversify its revenue, if it moved forward with the product, classifying it as a security that can be regulated.
In his initial Twitter thread scolding regulators, Armstrong wrote, "We were planning to go live in a few weeks, so we reached out to the SEC to give them a friendly heads up and briefing. … They responded by telling us this lend feature is a security."
In subsequent posts, Armstrong said the SEC allegedly subpoenaed records, demanded employer testimony and said it would sue the exchange if it proceeded.
"Look…we're committed to following the law. Sometimes the law is unclear," Armstrong tweeted. "So if the SEC wants to publish guidance, we are also happy to follow that."
The SEC could not immediately be reached for comment on the latest developments.
Frank Downs, a former NSA offensive analyst and currently the director of proactive services for the security firm BlueVoyant, tells ISMG, "The government interest and concern around the Coinbase lending program can be viewed as valid, considering the level of unregulated speculation specific to crypto lending. A great deal of daily, regular, crypto transactions and swaps occur without oversight and with nefarious (tax avoidable) intent."
And Rustici, who is currently managing director of the global advisory firm StoneTurn, adds, "The actions between DHS and the SEC show that cryptocurrency in general is still an area that the U.S. government as a whole needs to get more sophisticated with."
Last week, SEC Chair Gary Gensler testified before the Senate Banking Committee and defended the SEC's ability to enforce securities laws against cryptocurrency companies, although several Republican lawmakers cited a "lack of clarity" in enforcement efforts, including around stablecoins (see: SEC Chair Pushes for Additional Cryptocurrency Regulations).