CMS Anti-Fraud Tech Rollout Sped Up
Medicare, Medicaid to Use Predictive Modeling Nationally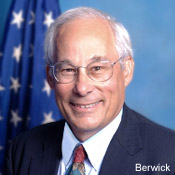 The Centers for Medicare and Medicaid Services plans to begin implementing predictive modeling technology nationally this summer to help prevent fraud.

Congress had required CMS to use predictive modeling in 10 fraud-prone states by this summer, but the agency has decided to push ahead this year with national use of the computer analysis of claims, a CMS spokesman says.

CMS will award a contract this spring for the fraud detection and prevention software, which will be used in the Children's Health Insurance Program as well as Medicare and Medicaid, according to the spokesman.
Predicting, Preventing Fraud
Back in December, CMS Administrator Donald Berwick, M.D. said the new fraud prevention technology will enable the agency to "expand our efforts to save millions, and possibly billions, of dollars" lost to waste, fraud and abuse.

The agency will use predictive modeling software, commonly used by banks, credit card companies and insurers, "to identify background information on potential fraudulent actors and links to questionable affiliations," according to a statement.

"This type of new information will help prevent bad actors from enrolling as healthcare providers or suppliers for the sole purpose of defrauding the healthcare system."
Anti-Fraud Rule
Meanwhile, a final anti-fraud rule to carry out healthcare reform's mandated programs has been published in the Federal Register. That rule, which will be effective March 25:
Creates a more rigorous screening process for providers and suppliers to help keep fraudulent organizations out of the federal programs.
Requires a new enrollment process for Medicaid and CHIP providers. Those that have been kicked out of Medicare or another state's Medicaid or CHIP program will be barred from all Medicaid and CHIP programs.
Gives federal authorities the power to temporarily stop enrollment in the programs in a geographic area or for a category of providers/suppliers if predictive modeling software identifies patterns of fraud.
Gives authorities the power to temporarily stop payments to those for whom there has been a credible fraud allegation until an investigation is completed.