California's 'Kill-Switch' Bill's Impact in U.S.
Measure Would Require Ability for User to Disable Smart Phone
Legislation on California Gov. Jerry Brown's desk, if signed, would require the sale of smart phones with a "kill switch" that could be activated by consumers if the devices are lost or stolen.
See Also: The Present and Future of Security Operations
Because of California's immense size --12 percent of U.S. residents live in the state -- the practical impact of the legislation could be the sale of smart phones with deactivation capabilities across the nation. Manufacturers generally are reluctant to tailor their products for just one state, especially if it's the nation's largest state with a population of some 38 million people.
"With the manufacturers who sell 97 percent of smartphones in the United States having removed their opposition ... we are on the eve of securing wireless consumers everywhere from the violent threat of theft," says San Francisco District Attorney George Gascón, one of the bill's chief advocates who like other California DAs, the attorney general and city attorneys would be charged with enforcing the law.
California Senate Bill 962, which passed the Senate on Monday and the Assembly last week, would prohibit retailers from selling smart phones in California after next July 1 unless they come pre-equipped with theft-deterring technology. Consumers would have the opportunity to opt-out of using this technology. Retailers selling devices without the anti-theft technology could face fines of between $500 and $2,500 for each smart phone sold.
The bill would require the smart phone, during the initial device setup process, to prompt a user to enable the technology to deactivate the device. Consumers could opt out of implementing the kill switch.
Phone Thefts Big Problem
Smart phone theft is a big problem in California and elsewhere, and the ability to make them unusable if stolen is gaining traction. According to a Senate analysis of the bill, more than 50 percent of robberies in San Francisco and 75 percent in Oakland involve the theft of a mobile device.
"Robberies and burglaries not only deprive victims of their property, but also put them in harm's way," Oakland, Calif., Mayor Jean Quan says. "The bottom line is that by helping reduce these crimes, this bill is going to save lives."
A Consumer Reports study issued in May contends smart phone crime doubled last year, with 3.1 million devices stolen nationwide, up from 1.6 billion in 2012.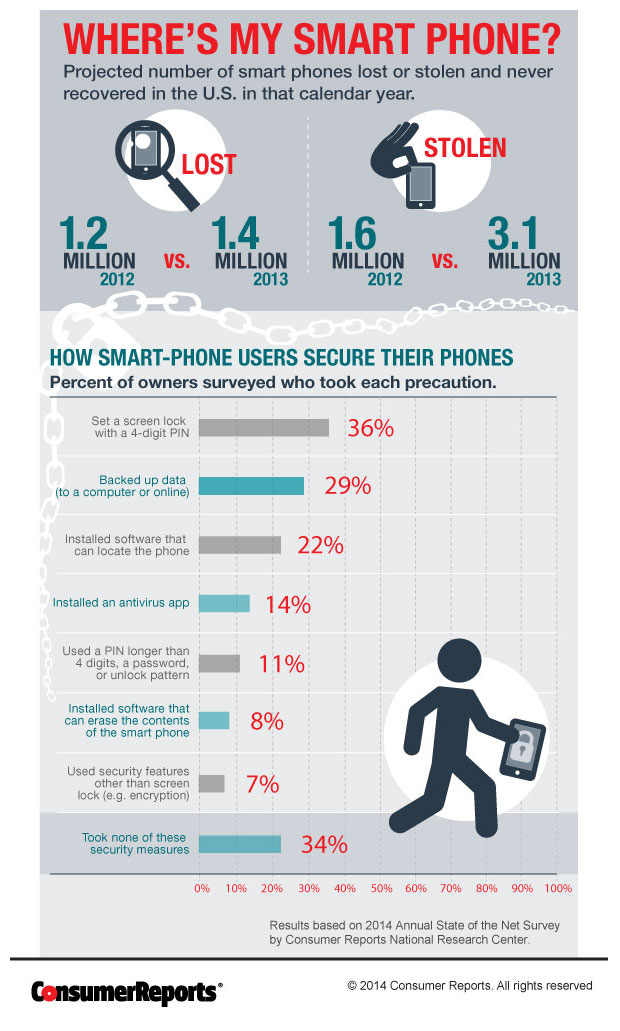 Research issued in July by William Duckworth, a Creighton University business professor who used the Consumer Report data, estimates that kill-switch legislation could save American consumers $3.4 billion a year in insurance premium and replacement costs. "At least half of smartphone owners would in fact reduce their insurance coverage if the kill switch reduced the prevalence of cell phone theft," Duckworth says.
Americans spend $5.5 billion a year paying for premium cell phone insurance from their wireless carriers and $1.1 billion annual to replace stolen phones, Duckworth says.
The costs of smart phone thefts prompted U.S. Sen. Amy Klobuchar, D-Minn., to introduce similar legislation last February, the Smartphone Theft Prevention Act, which would require all phones sold in the United States to include kill switch technology to wipe the personal data off the phone, render the phone permanently inoperable to anyone but the owner and prevent it from being reactivated on a network by anyone but the owner. "With nearly one-in-three robberies involving phone theft, this legislation will take important steps to protect the identity of victims and cut the incentive for criminals to target smart phones," Klobuchar said when she introduced the bill. The measure isn't expected to come up for a vote, however.
Adding a kill switch to Apple smart phones has deterred criminals from stealing them, according to American and British law enforcement officials (see Smart Phone 'Kill Switch' Cuts Crime).
Opponents Voice Concerns
Although many wireless carriers and cell phone providers support the bill - Apple, AT&T, Blackberry, Google, Microsoft, Samsung and Verizon, among them - other organizations oppose the legislation. The San Jose Silicon Valley Chamber of Commerce contends private-sector solutions should be sought whenever possible to address public concerns. "While we applaud the goal to decrease theft and increase privacy, we feel that SB 962, though well-intentioned, would not achieve that ultimate outcome," a Chamber statement says. "Most operating systems developed in Silicon Valley already possess the capability to remotely lock, erase or disable their mobile devices."
The online civil liberties group Electronic Frontier Foundation, in voicing its opposition, says the proposed law likely cannot keep up with the technology. "Mandating any technological fix could 'lock in' a less effective solution, preventing stronger third-party anti-theft applications from competing and innovating," EFF lawyers wrote last June in a letter to one of the bill's sponsors.
An EFF spokesman says the foundation's position hasn't changed since then.
The EFF lawyers also express concerns that the technology could be abused by criminals and law enforcement.
"The presence of such a mechanism in every phone by default would not be available but for the existence of the kill switch bill," the letter says. "In essence, SB 962 mandates the technical ability to disable every phone sold in California, and [Public Utility Commission rules] provides the necessary legal roadmap to do the same. Within two years, we would have legitimized a process that was seen to be quite extreme. While users have the ability to opt-out of such a tool, it is widely known that default settings are rarely changed."