Cyberwarfare / Nation-State Attacks , Endpoint Security , Fraud Management & Cybercrime
BT and Vodafone Reportedly Want Huawei 5G Gear
Vodafone CEO Has Warned Huawei Ban Would Delay Britain's 5G Rollout by 2 Years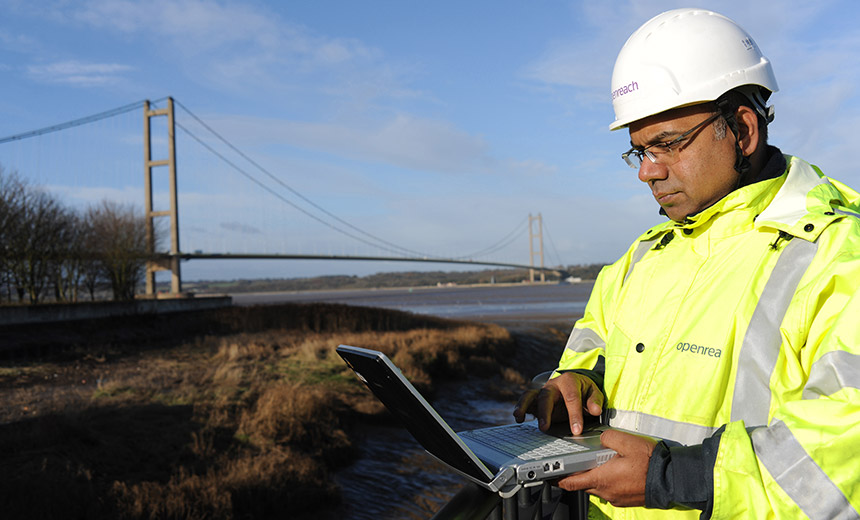 Britain's two largest telecommunications firms plan to lobby Prime Minister Boris Johnson to not fully ban Huawei hardware from the nation's 5G rollout.
See Also: JavaScript and Blockchain: Technologies You Can't Ignore
So reports the Guardian, which reports that Philip Jansen and Nick Read, respectively the CEOs of BT and Vodafone, have drafted a letter to Johnson stating that they have not seen any evidence that Huawei poses a security risk.
They're calling on Johnson to allow them to use Huawei gear for antennas and non-core parts of their 5G mobile phone networks, the Guardian reports, noting that they could send the letter as early as this week.
BT declined to comment on the report. Vodafone did not respond to requests for comment.
Huawei is the world's largest provider of 5G equipment, and telecommunications firms have said that the state-supported manufacturer's prices cannot be beat. Telecommunications firms that operate in the U.K. have repeatedly said they do not want to rely solely on networking equipment manufactured by Cisco, Ericsson and Nokia for their 5G rollouts.
But U.S. officials continue to warn that ties between Huawei and the Chinese government mean that it should not be trusted, and that its hardware could be subverted by Beijing for nation-state espionage campaigns. Huawei has continued to dismiss such criticism (see: Huawei's Role in 5G Networks: A Matter of Trust).
UK Report: Huawei Can Be Managed
A secret technical assessment prepared last year by Britain's National Cyber Security Center, which is part of GCHQ and runs a center that tests Huawei equipment, reportedly concluded that the risks of using Huawei as part of the national 5G rollout, especially for non-core parts of the network, can be minimized if the process is appropriately managed (see: Report: UK Believes Risk of Using Huawei Is Manageable).
Already, at least some British telecommunications providers do not use Huawei in core, critical parts of their networks. In December 2018, for example, BT said that it had removed Huawei from parts of its core 3G and 4G networks, and was instead using equipment from Nokia and Cisco.
"In 2016, following the acquisition of EE, we began a process to remove Huawei equipment from the core of our 3G and 4G mobile networks, as part of network architecture principles in place since 2006," BT said at the time.
In January 2019, Vodafone said that it had "paused" using Huawei for core parts of its 4G and 5G networks in Europe.
But Vodafone CEO Read warned at the time that banning Huawei would lead to a costly, two-year delay in Europe's 5G implementation and disrupt customers.
Some security experts have warned that Huawei's lack of engineering quality means that many of its devices have flaws that could be exploited by attackers, be they nation-state-sponsored or others. Last year, for example, the NCSC's Huawei test center concluded that Huawei's "software engineering and cybersecurity processes" continued to beset by unresolved "defects," and signaled to Huawei that it needs to do better.
Even so, earlier this month, Andrew Parker, who head's Britain's MI5 domestic counterintelligence and security agency, said he had "no reason to think" that using Huawei in non-core parts of Britain's 5G network would pose a national security risk or threaten intelligence sharing with the U.S.
US View: No Huawei or the Highway
Trump administration officials, however, continue to press allies to ban Huawei equipment. But some allies have expressed frustration that the White House has been suggesting no alternatives.
"The point is that the U.S. have no plan B," one British government source tells the Guardian, in the wake of a visit by U.S. national security officials to London last week to continue their lobbying against Huawei. When U.S. officials were pressed to provide clear technological alternatives, the source told the Guardian that "the answer is they don't have one."
Prime Minister Johnson has said he doesn't want to anger the U.S., jeopardize intelligence-sharing arrangements or the U.K.'s national security. But the country also needs a plan B, he said (see: 5G Security in the Balance as Britain Navigates Brexit).
"The British public deserve to have access to the best possible technology," Johnson told the BBC last week. "We want to put in gigabit broadband for everybody. Now if people oppose one brand or another, then they have to tell us what's the alternative."
Britain is arguably in a difficult position as it plans its "Brexit" from the EU, currently scheduled for Jan. 31. After it does exit, the country must negotiate new trade deals, including with both the U.S. and China. Banning or not banning Huawei could have profound repercussions for the types of trade deals the U.K. secures.
The lack of trusted alternatives to Huawei has led a bipartisan group of U.S. senators to propose creating a $1 billion fund to drive the development of alternatives, as well as encourage their use in the U.S. and with allies. But the draft legislation has yet to advance to the House, meaning any impact from the legislation wouldn't arrive for some time (see: Senators Field Legislation to Build Huawei 5G Alternatives).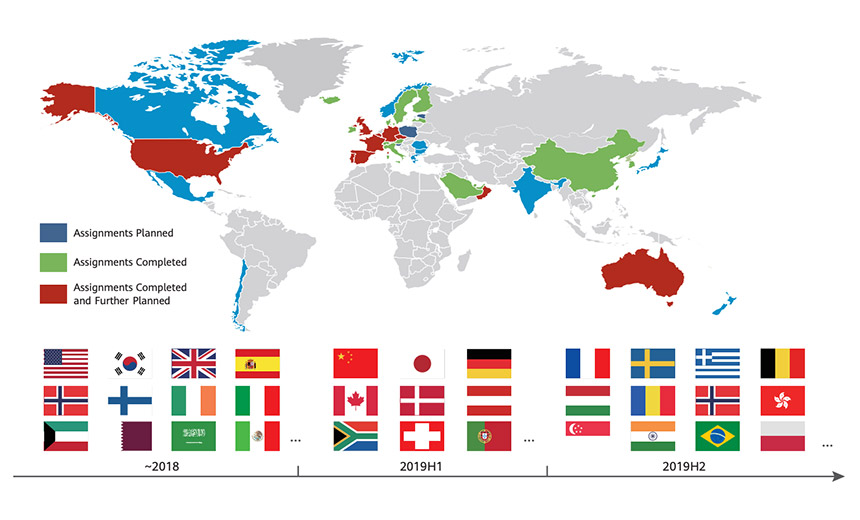 5G spectrum assignment from 2018 to 2019 (Source: Huawei, via GSMA Intelligence, April 2019)
In the meantime, European telecommunications providers have already begun launching 5G, with BT's EE and Vodafone in May 2019 being the first in Britain to introduce coverage in eight U.K. cities. Complete national coverage is planned for 2022.