UK's PM Mimics Words of U.S. Cyber Commander?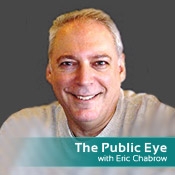 The remarks read eerily similar.
In announcing the creation of a new government cybersecurity operation Thursday, British Prime Minister Gordon Brown is quoted by the Associated Press as saying:
"Just as in the 19th century we had to secure the seas for our national safety and prosperity, and in the 20th century we had to secure the air, in the 21st century we also have to secure our position in cyberspace."
Brown's words appear very similar to the testimony given last month by U.S. Army Lt. Gen. Keith Alexander, the National Security Agency director who's taking on the additional job of head of a new U.S. cybersecurity military command announced Tuesday. In prepared testimony before a House subcommittee, Alexander said:
"Maintaining freedom of action in cyberspace in the 21st Century is as inherent to U.S. interests as freedom of the seas was in the 19th Century, and access to air and space in the 20th Century.
This coincidence in speech reminds me of a September 1987 accusation against Vice President Joseph Biden, then a Democrat senator from Delaware running for the Democratic Party presidential nomination, that he plagiarized a speech by British Labor Party leader Neil Kinnock. Here's what Kinnock said (quotes from Biden's Wikipedia profile):
"Why am I the first Kinnock in a thousand generations to be able to get to university? [Then pointing to his wife in the audience] Why is Glenys the first woman in her family in a thousand generations to be able to get to university? Was it because all our predecessors were thick?"
Biden said:
"I started thinking as I was coming over here, why is it that Joe Biden is the first in his family ever to go to a university? [Then pointing to his wife in the audience] Why is it that my wife who is sitting out there in the audience is the first in her family to ever go to college? Is it because our fathers and mothers were not bright? Is it because I'm the first Biden in a thousand generations to get a college and a graduate degree that I was smarter than the rest?"
It's plausible that Brown or his speechwriters may have independently come up with the phrasing without ever reading or knowing of Alexander's testimony. Still, I was stopped dead in my tracks when reading Brown's words; they seem so familiar.