This New Blog Seeks a Dialogue with You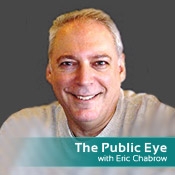 With the launch of GovInfoSecurity.com comes the launch of my blog, The Public Eye.
First, a brief biography. I've been a journalist for too long. In my first job, I used a manual typewriter and had a pair of sharp scissors and a paste pot on my desk. (Ever wondered where the term cut and paste came from?) For the better part of the past 25 years, I've been covering information technology at publications such as CMP's InformationWeek and Ziff Davis' CIO Insight, where I was the top editor. I joined Information Security Media Group as a managing editor in mid-January to help create and launch GovInfoSecurity.com.
As the name The Public Eye suggests, the blog will keep a watchful eye on the latest developments regarding information security and privacy in the federal government. Information security is in, and in a very big way. President Obama promises to increase spending on information security and elevate the safeguarding of government IT and the nation's critical IT infrastructure to new levels, including the appointment of a cybersecurity advisor in the White House
And it's not just the White House that's abuzz about IT security. Congress this year is tackling reforms to the Federal Information Security Management Act, including identifying new ways to measure whether government IT systems are truly secure. Lawmakers, of course, must find the money to finance the extra resources needed to adequately secure government IT.
But as important as the goings on at 1600 Pennsylvania Avenue and Capitol Hill are, so are the day-to-day, in-the-trenches actions performed by you, the information security and privacy professionals and managers. You're the true experts on information security, and it's your voice I hope to reflect in this blog.
With that in mind, I'll share my perspectives on the latest happenings in government. One blog could just be a tidbit of interest, another a lengthy (but not too drawn out, I hope) analysis. I also intend to use the blog to share pieces of my reporting before the final story is posted.
And, I see this blog as an interactive forum where you will share your views with other public servants who are protecting the systems and networks that allow our government to function. I've been blogging on information technology for a decade, and my best blogs were those that engaged readers by having them partake in the conversation. And that discussion needn't necessarily be between you and me, but among you and your colleagues.
Please join me in our new endeavor.