The State of the Union's Cybersecurity
Obama Seeks Enactment of Cybersecurity Legislation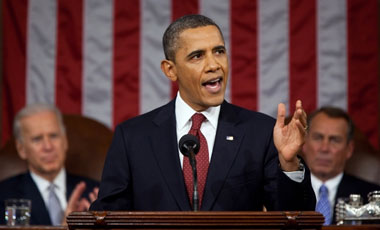 President Obama uttered the term "cyber" only once in his 7,200-word State of the Union address Tuesday night, but that fleeting moment about an hour into the speech could prove significant.
Here's Obama's entire remark on cybersecurity during the address:
See Also: OnDemand | What's Old is New Again: Protecting Yourself From Check Fraud
"To stay one step ahead of our adversaries, I have already sent this Congress legislation that will secure our country from the growing danger of cyberthreats.
This statement received scattered applause from the senators and representatives, not nearly as intense as other remarks the president gave. Still, the fact that Obama mentioned cyberthreats signals to Congress, the nation and the world that cybersecurity is an administration priority, though how much of a priority isn't clear.
In May, the White House unveiled its comprehensive cybersecurity legislative agenda that updates the Federal Information Security Management Act - the law that governs government IT security - and formalizes the Department of Homeland Security's role in managing the government's non-military, non-defense IT as well as coordinating with the private sector the protection of the nation's critical information infrastructure. The Obama proposal also would establish a new framework aimed at protecting individuals' privacy and civil liberties. At the time, White House Cybersecurity Coordinator Howard Schmidt said:
"Fundamentally, this proposal strikes a critical balance between maintaining the government's role and providing industry with the capacity to innovatively tackle threats to national cybersecurity. Just as importantly, it does so while providing a robust framework to protect civil liberties and privacy."
Though just one line in the speech, the chairman of the Senate Homeland Security and Governmental Affairs Committee, Joseph Lieberman, interpreted the president's remark as a clarion call for Congress to pass cybersecurity legislation. Lieberman, ID-Conn., said the president's reference to cyberthreats underscores the pressing nature of securing the government's cybersystems and networks and a limited number of private sector networks that "touch the lives of all Americans."
Lieberman said Senate Majority Leader Harry Reid along with his Senate colleagues who are sponsoring cybersecurity legislation - Tom Carper, D-Del., Susan Collins, R-Maine, and Jay Rockerfeller, D-W.Va. - are committed to bringing a bipartisan information security bill to the floor in the next few weeks, adding:
"The nation's ever increasing dependence upon cybernetworks in all aspects of our lives demands action now. ... We call on our colleagues to come together across party lines to help us ensure the integrity of our electronic world."
Congress hasn't enacted significant cybersecurity legislation in nearly a decade, and though lawmakers are closer than they have been in years to updating federal cybersecurity law, passage is no sure thing, especially in this divided Congress despite the bipartisan nature of cybersecurity. Perhaps, though, the president's momentary remark is what Congress needed to hear to get long-awaited cybersecurity legislation passed.