Remembering Steve Jobs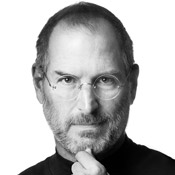 It's about Steve Jobs and mourning the passing of a man who truly was a game-changer.
We all knew Jobs was ill when he stepped down from Apple Inc. this past summer. But his death still was a shock - not only because it was sudden, but also because it jolted us into thinking about exactly what we lost.
Microsoft gave us Windows, but Jobs opened doors.
Benjamin Franklin. Thomas Edison. Henry Ford. If there were a Mount Rushmore of great inventors, it wouldn't be out of line to imagine Steve Jobs' face carved into the stone - twice, even. Once for his original Apple computer, which evolved into the Mac; the second time for the iMac, which begat the iPod, iPhone and iPad.
How pervasive are Jobs' inventions in our lives? I was one of those people President Obama was talking about when he said: "There may be no greater tribute to Steve's success than the fact that much of the world learned of his passing on a device he invented."
I'd just stepped off an airplane last night when I got the news via my iPhone. Then I heard someone behind me say "revolutionary," and I knew exactly who they were talking about.
Like many of you, when I heard the news I thought, "How do I convey to my children the significance of Jobs' passing?" Here's what I decided:
He made computing personal. Before Apple, computers were strictly the domain of geeks with their punch cards and arcane computing languages. They were inaccessible to the average person. With the Apple, then the Mac, Jobs and Apple's co-founder, Steve Wozniak, did the work of geniuses. They made the complex seem simple. Suddenly the average person was empowered to use an intuitive device to compute, to create. In homes, in schools and in offices, Apple's computers revolutionized how we work, how we learn, how we live.
He never quit. Had Jobs retired after the success of the Apple II, he'd still be remembered today as a computing pioneer. Instead, he suffered significant setbacks (Apple III, anyone? The Lisa?). And then he started another revolution in 1984 with the intro of the Mac. I got my first Mac in 1989 - still have it, even - and there is no way to exaggerate its impact on personal computing. But what I remember most about the Mac is about how it was dead or dying in the mid-90s. The PC war was over, and Windows-based machines had won. Or so we were led to believe. Yet, Jobs - who'd been exiled from his own company - returned in 1997, soon introduced the iMac, and ... well, rumors of Apple's death quickly expired.
He made it all about the i. It started with the introduction of the iPod, a device with a creepy sounding name (Invasion of the Body Snatchers, anybody?) that made us realize: Oh, yes, it would be nice to have all our favorite music stored and accessible on one small electronic device. Then came iTunes, which made the record store an endangered species. The iPhone, which put computers in everybody's pockets. And the iPad, which will top the adults' list of Most Popular Toys again this Christmas. Beyond making computing personal, these devices made it individual - that's what the "I" truly stands for: "How do I want to live, work, create?"
The world is a richer place because of Steve Jobs. Microsoft gave us Windows, but Jobs opened doors.
And, yes, the world is a sadder place today because of the news of Jobs' passing. But somewhere out there, in a generation that's never known life without an iPod, iPhone or iPad, there's a new wave of innovators who will be inspired by Jobs - his accomplishments, his perseverance, his example.
That's Steve Jobs' true legacy, and it will enrich us for generations to come.