Governance & Risk Management , Legislation & Litigation , Privacy
'Moonshot to End Cancer': Don't Forget Privacy
In Ramping Up Research Efforts, We Must Not Neglect Data Protection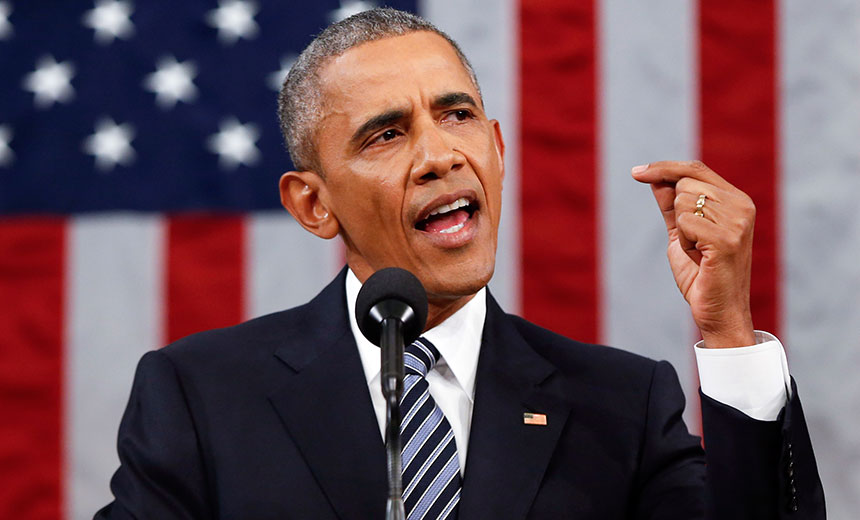 Far too many of us have dealt with the heartbreak of losing a loved one to cancer or have faced the anguish of battling a malignancy. So the current cooperation between the White House and Congress on multiple efforts aimed at speeding up medical collaboration, innovations and treatments in a "moonshot to end cancer" is significant.
See Also: Live Discussion | Securing Business Growth: The Road to 24/7 Threat Detection and Response
But as the federal government moves forward with a long list of important endeavors focused on improving medical innovations - including making it easier for researchers and oncologists to access and share health big data - it's also critical that patient privacy and data security stay top of mind.
"Right now, we're on the cusp of incredible breakthroughs in both research and therapies."
The White House on Jan. 28 created a "cancer moonshot task force" made up of members from executive branch departments, including agencies and offices of the departments of Health and Human Services, Commerce and Energy.
The White House says the task force "will focus on making the most of federal investments, targeted incentives, private sector efforts from industry and philanthropy, patient engagement initiatives, and other mechanisms to support cancer research and enable progress in treatment and care."
On the same day, Vice President Joseph Biden, who has been named chair of the task force and whose son Beau succumbed to cancer last year, posted a blog about the importance of allowing researchers and oncologists to tap into the "treasure trove" of databases containing medical records, genetic history and tissue banks in the quest of faster and better progress in the battle against cancer.
"Right now, we're on the cusp of incredible breakthroughs in both research and therapies," Biden wrote. "In just the last decade or less, we've seen amazing advances in immunotherapy, in genomics, in virology and combination therapies. The task before us is to break through some of the barriers and do what we can to help speed up the progress, so that we can deliver treatments and increase access to these new approaches for millions more people."
"We're trying to get to a quantum leap on the path to a cure." �@VP on his #CancerMoonshot: https://t.co/kz4xOQyrmW pic.twitter.com/cNSzobUPjz

� The White House (@WhiteHouse) January 28, 2016
Congressional Actions
Sen. Lamar Alexander, R-Tenn., chair of the Senate Committee on Health, Education, Labor and Pensions issued a statement of support for the task force. "We are working in the Senate health committee to send to the president's desk bipartisan legislation that would safely bring lifesaving drugs and medical devices to patients more quickly," he noted. "The president's announcement of a White House task force on cancer, along with his precision medicine initiative and the House-passed 21st Century Cures legislation, set the stage for the Senate to get a bipartisan result."
In fact, the Senate committee is considering about a dozen bipartisan bills that address pieces of what's contained in the 21st Century Cures Act.
On Feb. 9, the committee is set to consider about seven of those bills related to biomedical innovation, including legislation "to help achieve interoperability of electronic health records." Among its various proposals aimed at improving interoperability of EHRs, that draft bill includes provisions addressing secure data exchange and health information blocking (see Draft Bill Tackles EHR Privacy, Security Issues).
Meanwhile the House's 21st Century Cures Act also addresses a variety of related issues, including provisions aimed at improving information sharing among medical researchers. The legislation includes a proposal to change the HIPAA Privacy Rule to allow the use and disclosure protected health information for research purposes without patient authorization if covered entities or business associates are involved in the use or exchange of the data.
Privacy Concerns
It remains to be seen if that provision will find its way into any of the Senate proposals. In the meantime, some privacy advocates have raised a red flag, saying that the change could potentially put patient data privacy at risk.
For instance, Khaled El Emam, a senior scientist at the Children's Hospital of Eastern Ontario Research Institute, recently told me that a possible side-effect of the HIPAA changes proposed in the 21st Century Cures Act is a watering down of a HIPAA data de-identification requirement, which could ultimately put protected health information at a higher risk of exposure when used for research.
HHS' Office for Civil Rights in 2012 - as mandated by the HITECH Act - issued important guidance on how to de-identify aggregated patient information for secondary uses, including clinical effectiveness studies, policy assessments and life sciences research.
Hopefully, any new legislation that ultimately gets signed into law won't abandon important accepted best practices - including de-identification - for protecting patient information used for research.
The recent efforts of Congress and the White House to expedite medical innovation, including zeroing in on the evasive, long-sought-after "cure" for cancer, seems like a cause anyone would support. After all, cancer doesn't care if you're a Democrat, Republican, independent or something else.
But it's absolutely essential that legislators and government leaders don't undermine patient privacy as they try to propel medical breakthroughs.