Manning Verdict's Influence on Snowden
Will Manning's Acquittal on Aiding the Enemy Comfort Snowden?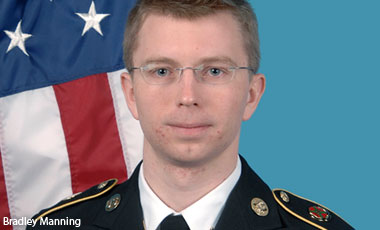 Will the verdicts in the case of Army Pfc. Bradley Manning - acquitted on charges of aiding the enemy, but found guilty on multiple counts of violating the Espionage Act - give Edward Snowden second thoughts about being on the lam?
See Also: Entering the Era of Generative AI-Enabled Security
After all, on July 30 a military judge found Manning not guilty on the most serious charge of aiding the enemy, and that verdict suggests that the government's espionage cases against whistleblowers don't automatically mean conviction.
It seems clear that the government was seeking to intimidate anyone who might consider revealing valuable information in the future.
Then again, Manning faces up to 136 years in prison for multiple counts of violating the Espionage Act, stealing government property and other charges for leaking three-quarters of a million military and diplomatic documents to WikiLeaks. The potential sentence Manning could receive isn't likely to persuade Snowden to trade his month-long sanctuary at Moscow's airport for a one-way ticket to the United States and likely arrest.
Government Intimidation?
That's a point made to The New York Times by Yochai Benkler, a Harvard law professor who testified in Manning's defense, who says the decades of imprisonment Manning faces is a major blow to "leakers and whistleblowers," a "still too high a price for any democracy to demand of its whistleblowers."
Ben Wizner, director of the ACLU's Speech, Privacy and Technology Project, picks up on that theme: "Since he already pleaded guilty to charges of leaking information - which carry significant punishment - it seems clear that the government was seeking to intimidate anyone who might consider revealing valuable information in the future."
Snowden has admitted that he leaked classified documents about National Security Agency top-secret mass surveillance programs to Britain's Guardian newspaper. NSA Director Keith Alexander says Snowden was a former systems administrator with top-secret clearance.
Counterproductive Behavior
Before the Manning verdict, Snowden and many of his supporters said the way the military treated Manning after his arrest should give the former NSA contractor pause about returning to the United States to face charges. Manning had been placed in solitary confinement and, according to published accounts, was forced to remove his clothes every night and required each morning to stand outside his cell, naked, until he passed inspection and was given his clothes back. "That kind of behavior can be counterproductive," says Rahul Sagar, author of the forthcoming book Secrets and Leaks: The Dilemma of State Secrecy [see Edward Snowden Is Not Daniel Ellsberg].
Snowden's father, Lou Snowden, tells CNN that he doesn't believe his son can get a fair trial even though he believes his son's actions were different than those of Manning. ""No, he could [not] get a fair trial in the U.S. Absolutely not," the elder Snowden says. "There are certainly different circumstances. People want to compare both cases; they're completely different. First and foremost, I think my son has exercised discretion in the information that he has shared."
True, elements of their cases are different, but the long imprisonment Manning faces will likely dissuade Snowden from voluntarily returning to the United States to face trial.