IRS: 'Doing a Heck of a Job'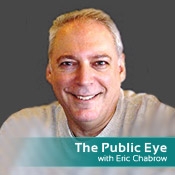 The Government Accountability Office, in an audit released Monday, lauds the Internal Revenue Service for its help to the Federal Emergency Management Agency during hurricanes playing havoc along the Gulf coast. As important, the GAO praised the IRS for taking lessons learned in aiding FEMA during Hurricanes Katrina and Rita in 2005 and improving on its response for Hurricanes Ike and Gustav in 2008.
Here's what GAO said about the IRS, which has an agreement with the FEMA in which IRS call centers are used during disasters:
'Brownie, you're doing a heck of a job' would have been credible if the command in chief substituted 'IRS' for Brownie.
"IRS was able to improve the speed of its response to disruptions by adapting its information technology processes. After Hurricanes Katrina and Rita in August and September 2005, IRS deployed more than 5,000 employees at its call sites to help register disaster victims with FEMA. During the response effort, IRS officials estimated that IRS staff may have handled more than 50 percent of FEMA's calls.
"In order to fill this increased need for capacity, IRS expanded the size of its workforce by bringing back about 4,000 seasonal employees, who are typically hired to assist with the tax filing season. IRS completed a similar service for FEMA during Hurricanes Ike and Gustav in 2008, and was able to incorporate lessons learned from the response to Hurricanes Katrina and Rita.
"Specifically, during the response to Katrina and Rita, IRS employees were able to log into either the IRS system or the FEMA system but not quickly able to transition between the two to serve the needs of the individual callers. After this experience, IRS's information technology staff identified ways for IRS employees to toggle between the two systems and thus work where demand was greatest."
It's not atypical for a GAO audit of the IRS to say something such as: improvement has been made but much more needs to be done (see my blog, "One Step Forward, Two Steps Back for IRS"). But this latest GAO audit - "IRS Practices Contribute to Its Resilience, but It Would Benefit from Additional Emergency Planning Efforts" - despite its title, shows how the agency and its employees step up in natural disasters. Kudos all around the tax collection agency and its people.