In Transition: White House Cybersecurity Policy
President Donald Trump Suggests a Militaristic Approach to IT Security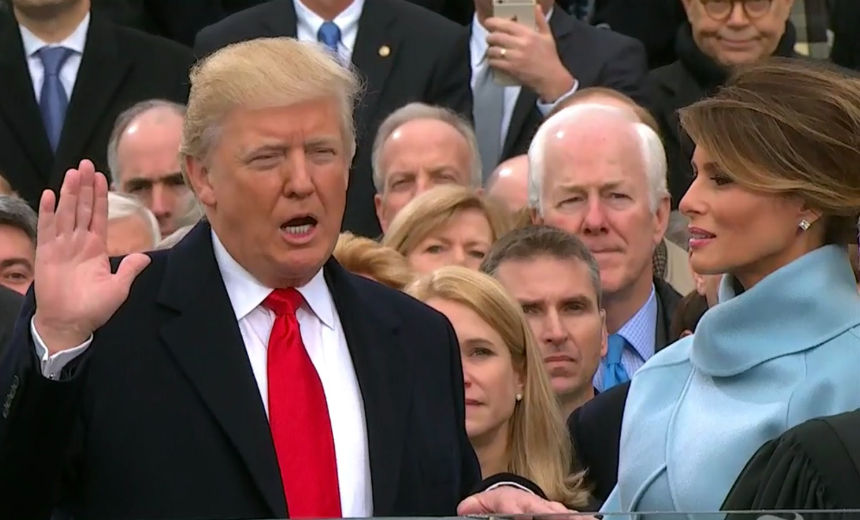 As President Donald Trump delivered his inaugural address, which made no mention of cybersecurity, the White House smoothly transitioned its website, Whitehouse.gov, from the Obama to the Trump administration. Immediately, Trump's team posted a series of position papers, including one that addressed - albeit briefly - cybersecurity, titled Making Our Military Strong Again.
The fourth paragraph of that issue paper states:
See Also: LIVE Webinar | Stop, Drop (a Table) & Roll: An SQL Highlight Discussion
"Cyberwarfare is an emerging battlefield, and we must take every measure to safeguard our national security secrets and systems. We will make it a priority to develop defensive and offensive cyber capabilities at our U.S. Cyber Command, and recruit the best and brightest Americans to serve in this crucial area."
Trump has yet to provide details on how his administration would approach cybersecurity. But in November, he pledged that on Day 1 of his presidency, he'd ask the Defense Department and the chairman of the Joint Chiefs of Staff "to develop a comprehensive plan to protect America's vital infrastructure from cyberattacks and all other forms of attacks."
Protecting Civilian Infrastructure: DoD or DHS?
Such an approach would diverge from the Obama administration's policy of placing the Department of Homeland Security, a civilian agency, in the lead to protect the nation's critical infrastructure, which is mostly owned and operated by private companies. "Statutorily, that job belongs to Homeland Security," former NSA and CIA Director Michael Hayden said at a Wall Street Journal forum last month.
As for defending the federal government from cyberattacks, Trump said in an Oct. 3 speech that he'd name a cyber review team, comprising the "best military, civilian and private-sector cybersecurity experts," to conduct a comprehensive review of all of the government's cybersecurity systems and technology. Trump said the cyber review would not be a one-off and that follow-up reviews would occur regularly. "The review team will also remain current on the constantly evolving new methods of attack, and will attempt to anticipate them and develop defenses as possible before major breaches occur," Trump said.
Filling Leadership Void
Another immediate challenge Trump faces: restocking the IT and IT security leadership in the White House. As political appointees, the White House's top IT and IT security leaders left with Obama, including federal CIO Tony Scott, federal CISO Gregory Touhill and White House Cybersecurity Coordinator Michael Daniel.
Trump has made some cybersecurity-related appointments, but not to these key positions. In late December, Trump recruited Thomas Bossert to be assistant to the president, with a portfolio that includes homeland security, counterterrorism and cybersecurity (see Who Is Trump's Top Security Adviser Tom Bossert?). In the George W. Bush White House, Bossert was involved in cybersecurity policymaking as a deputy homeland security adviser.
Bossert is expected to work closely with retired Gen. John Kelley, who the Senate confirmed as DHS secretary hours after Trump's inaugural.
Earlier this month, Trump asked former New York City Mayor Rudolph Giuliani, who runs a security consultancy, to lead a corporate outreach program to solicit cybersecurity solutions from the private sector (see Donald Trump Taps Rudy Giuliani as Cybersecurity Adviser). Trump's intent, according to a statement released by his transition team, "is to obtain experiential and anecdotal information from each executive on challenges faced by his/her company, how the company met the challenges, approaches which were productive or successful, and those which were not." That insight is aimed to help the federal government identify cybersecurity solutions it could adopt.
The Russian Problem
Trump, when speaking of cybersecurity, has cited attacks from select nation-states and terror groups. "Cyberattacks from foreign governments, especially China, Russia and North Korea, along with non-state terrorist actors and organized criminal groups, constitute one of our most critical national security concerns," he said in the September speech.
Donald Trump discusses how to combat cyberattacks from terrorists during last fall's campaign.
But as he develops a cyber policy, Russia, in particular, poses a problem for Trump. The U.S. intelligence community blames the Kremlin for breaches on Democratic Party computers that resulted in the theft of documents, made public through WikiLeaks, that proved embarrassing to Trump's presidential rival, former Secretary of State Hillary Clinton. American intelligence agencies accuse the Russians of using the hacks as part of a campaign to help throw the election to Trump.
Trump initially rejected those claims, but after getting an intelligence briefing, accepted those findings (see Trump Confirms Russian Hacking Campaign, Aide Says). Still, he has spoken of improving relations with Russian President Vladimir Putin.
What effect the evolving relationship with Russia will have on how a Trump administration develops cybersecurity defenses remains to be seen.