The Hacker and the Genie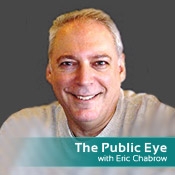 Chris Painter, the White House acting cybersecurity coordinator, likes to end his presentations with a joke. A lawyer by training, the stories tend to be lawyer's jokes, but since he was speaking before a group of government IT security managers, at a Tuesday event sponsored by the Federal Chief Information Officers Council, he decided to tell the tale as a hacker joke. Here's the gist of Painter's joke:
A hacker walking along a beach sees a lamp, picks it up and rubs it. A genie appears, readying to grant the hacker three wishes, but with strings attached.
"Everything you wish for, I'll give twice as much to all other hackers," the genie said.
"I'll take 1 million credit cards."
"Granted."
And the hacker received 1 million credit cards, but all the other hackers got 2 million each.
"Next, I want a Cray supercomputer."
"Granted."
Again, he got his supercomputer, but each of his competitors - remember hacking is a competitive profession -received two supercomputers.
The hacker was miffed, and took his time thinking of his third wish.
"Hurry," said the genie, "I got all these Larry Hagman episodes to watch."
"Finally," the hacker said, "I'd like to donate one kidney."
The moral of the story is that hackers are getting more clever and sophisticated, and turning serious, Painter said the need is greater than ever for government cybersecurity pros to collaborate more effectively to battle them.