Hack is No Game of Chess
Anonymous Blames U.S. for Activist's Suicide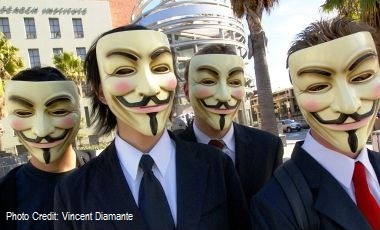 Anonymous is playing games - literally - with a U.S. federal government website.
See Also: Live Webinar | Cyber Resilience: Recovering from a Ransomware Attack
Over the weekend, the self-proclaimed hacktivist collective known as Anonymous hacked the website of the United States Sentencing Commission, the judicial branch agency responsible for federal sentencing guidelines. Anonymous posted a version of the late-1970s video arcade game Asteroids on the commission site.
How about a nice game of chess, Mr. Government?
In this version of Asteroids, according to published accounts, site visitors who entered a code got to shoot at the mask of Guy Fawkes, the face of Anonymous on the web. The mask is made up of white text that reads: "We do not forgive. We do not forget."
What Anonymous won't forgive or forget is the Jan. 11 suicide of Aaron Swartz, the Internet activist who co-created the web-content feed RSS format and helped develop the social media site Reddit. Anonymous, and others, blame the suicide on the federal prosecution of Swartz for using Massachusetts Institute of Technology computers to pilfer more than 4 million journal articles from an online archive and distribution service known as JSTOR. If convicted, Swartz, 26, could have faced more than 30 years in prison and fines approaching $1 million.
The FBI says it's aware of the breach and is investigating. Anonymous also reportedly hacked the website of the Eastern District of Michigan's United States Probation Office, where it posted the Asteroids game as well. The Sentencing Commission and Probation Office sites were unavailable on the afternoon of Jan. 28.
High Production Values
The most striking aspect about Anonymous' treatise justifying the hack was the sophistication of its stylish, 9½-minute YouTube video, which employed animation of weaponry as well as footage from the 1983 movie "War Games." The smoothly delivered message, recited by a narrator with an educated British accent, consisted of the message posted on the Sentencing Commission website:
"A line was crossed. ... Aaron Swartz was killed, killed because he faced an impossible choice, killed because he was forced into playing a game he could not win - a twisted and distorted perversion of justice - a game where the only winning move was not to play."
Anonymous, in its fluid message, claims it has sensitive information in files hidden on multiple servers that it would release if the government doesn't change the nation's sentencing laws.
"We demand the government does not make the mistake of hoping that time will dampen its ringing, that they can ride out this wave of determination, that business as usual can continue after a sufficient period of lip-service and back-patting. Not this time. This time there will be change, or there will be chaos."
Is this gamesmanship on the part of Anonymous?
Anonymous tweeted cryptically on Jan. 28: "How about a nice game of chess, Mr. Government?" That's an allusion to "War Games," in which a computer named Joshua almost triggered a global thermonuclear war. When that computerized war-game ended, without destruction, Joshua said: "A strange game. The only winning move is not to play. How about a nice game of chess?"
But don't expect the federal government to play a game with the hacktivists, at least not on Anonymous' terms.