The Good Sailor: Navy CIO Rob Carey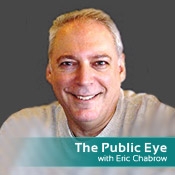 It wasn't a transfer he sought, but like the good naval officer he is, Navy Chief Information Officer and Reserve Cmdr. Robert Carey is moving on to a new assignment as director of strategy and policy at the Navy Fleet Cyber Command/10th Fleet, reporting to its commander Vice Adm. Bernard McCullough
I chatted with Carey on Thursday (the interview will be posted shortly), and he said:
"You have to keep long-term health and benefit of the organization in mind. ... I work for the secretary and the under(secretary), and I know when to salute and move on, and, I know how to chomp back and say, 'Hey, that's not right and do something different.'"
But Carey agrees with Navy Undersecretary Robert Work that the move is the right thing to do. Work is a champion of periodically moving senior government executives to new assignments to benefit the Navy as well as their careers, and Carey concurs:
"I have been in this job long enough. You get very comfortable in these jobs at times. You spend the first year or so learning the job, the second year you're trying to establish an agenda based upon the understanding of the job and then you spend the third year executing.
"There's a point in time ... not only are you riding the horse, but you broke the horse in. It's not difficult to get up on the horse every day. At that point in time, you instinctively know that you're probably ready for a new assignment; that you need to keep yourself sharp and focused and be able to help the corporation wherever the corporation needs it. The corporation needs help in cybercom. That's why I'm going up there."
Carey says he's looking forward to start his new assignment around Labor Day, when he hopes, his expected promotion to captain in the Navy Reserves would have finally come through.
The transfer means that Carey's short commute to the Pentagon from his suburban Virginia home will lenghten because the fleet cyber command is based on the other side of Washington in Fort Meade, Md. Carey, though, says friendly superiors should be able to find him an office in the Pentagon to use from time to time.