Giving Gov't Workers Their Due Respect
In Irene's Wake, Government IT Pros Show Their Mettle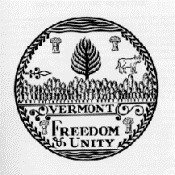 Government workers get a bum rap. They don't get the respect they rightly deserve.
Just ask Kris Rowley, the chief information security officer for the state of Vermont, where government IT and IT security personnel are making big, personal sacrifices as floods inundate the state, heavily damaging a data center in Waterbury, in the wake of Tropical Storm Irene.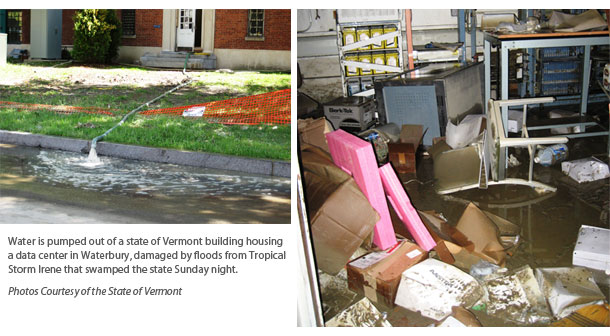 Rowley tells of one government IT professional who nearly lost his life fleeing from the flooded Waterbury data center the other day:
"One of our staff was in Waterbury on Sunday evening and leaving the complex when it was evacuated. His car got washed into the river from the road. He got out the window, and he was washed down the river but managed to grab onto something and hold on until help came. Talk about a close call!"
That worker - that government worker - put himself in harm's way to do his job protecting an important public asset. Not surprisingly, Rowley is blunt when she discusses some individuals' attitudes toward government workers:
"It is funny how, even my neighbors, treat me like I am from a different planet, when they call me 'you people' while poking a finger at me, when referring to state employees, like I (we) am not also a citizen and taxpayer. To hear them talk, all 'we' do is surf porn all day and spend 'their' hard-earned money needlessly on our own pleasures. I just shake my head. But, let something like Irene happen and it is a totally different story."
Americans don't put government in high esteem. The latest Gallup poll ranked the federal government dead last when the pollster asked respondents if they had a positive or negative view of 25 industrial sectors. Even the oil and gas industry performed marginally better than government. The federal government had a 46-point differential between the 17 percent who felt positive vs. the 63 percent who expressed negative feelings; 20 percent felt neutral. (Gallup doesn't offer separate categories for state and local governments, but as Rowley attests, many Americans don't differentiate between levels of government.)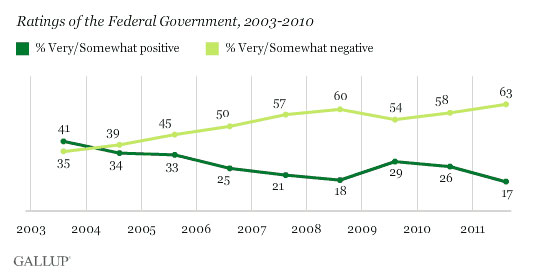 (By the way, the banking and healthcare sectors didn't fare much better, coming in 21st and 22nd, respectively.)
What frustrates Americans isn't government, per se, but the politics surrounding government. That's a point President Obama made Aug. 15 at a town hall meeting in Cannon Falls, Minn.:
"You'll hear a lot of folks, by the way, say that government is broken. Well, government and politics are two different things. Government is our troops who are fighting on our behalf in Afghanistan and Iraq. That's government. Government are also those FEMA folks when there's a flood or a drought or some emergency who come out and are helping people out. That's government. ... But don't buy into this whole notion that somehow government doesn't do us any good; government is what protects us."
Government includes those IT and IT security professionals who protect our federal, state and local systems and keep them operating securely during the worst of times, as we have seen this week as Irene stormed up the Atlantic coast and into Vermont and the rest of New England (see Disaster Averted for Most IT Systems). Remember, many of these IT and IT security pros could earn a lot more money working in the private sector.
Polls are peculiar; often, what people tell pollsters isn't what they truly believe. It's not that they lie; they just don't closely examine the facts when they're queried. When given the facts, they often express a different viewpoint. Separate politics from government, and more people will appreciate the work of our civil servants perform.