First Blog is New Navy CIO's Last One
Terry Halvorsen Doesn't Follow in Rob Carey's Footsteps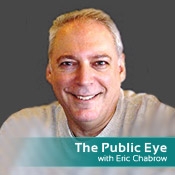 Robert Carey became one of the first federal CIOs to blog after becoming Navy CIO in 2006. His successor, Terry Halvorsen, says he just doesn't have the time to blog.
In a posting last week under the headline The CIO's Last Blog, Halvorsen writes:
"I'm sure you'll find it interesting and maybe a bit ironic that the new CIO's first blog is his last blog. I believe in the value of social media and believe it has its place in the Department of the Navy. However, as I am focusing on finishing up my duties as deputy commander of Navy cyber forces and taking the reigns as DON (Department of the Navy) CIO, blogging must be a lower priority. There is much work to be done, and I plan to fully engage with the Navy, Marine Corps and secretariat-level leaders through face-to-face meetings when possible."
Halvorsen says other ways exist for the CIO to communicate with the department's sailors, Marines, officers and civilian personnel, such as through the Navy's collaborative site called the Pulse, saying the intranet site is "the right place for the type of back and forth exchange that the blog enabled." Halvorsen writes:
"It is a place for you to engage; I don't have all the answers, but you may find them in the conversations that occur with others from across the DON."
Halvorsen says he'll publicly share his views on Navy IT and IT security, through periodic postings on the Navy CIO website and a regular column in CHIPS, the Navy CIO's quarterly magazine.
Still, Halvorsen's interaction with Navy personnel won't be as personal as the one initiated by Carey, a big champion of Web 2.0 offerings. In a spring 2009 interview with GovInfoSecurity.com, Carey addressed the use of Web 2.0 technology by the Navy:
"The Web 2.0 tools present an opportunity to us to smartly implement them in the conduct of our day to day business. We have to be mindful of the fact that we are not the drivers of the Internet and not the drivers of communication capabilities that exist out there. We are consumers of them and need to take advantage of these waves of innovation that occur. We didn't invent RSS feeds, but we use them. We didn't invent blogging and we didn't invent any of the other technologies, but we are all using those as avenues to communicate and collaborate.
"As we hire and recruit millennial generation and ingest them into the Department of Navy, they are very comfortable and familiar with all of these tools to do personal business and work-related function.
Halvorsen is right that blogging is not as important as his other duties, and he should get credit for being frank about it. But blogging is a good vehicle to let those you're collaborating with know what you're up to. If the new CIO doesn't have time to blog, perhaps he'll find at least a few moments to Tweet.