The Few, the Proud ... The Influencers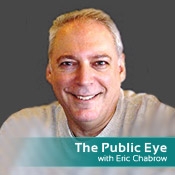 Cybersecurity is more than a group effort, it's a multi-enterprise endeavor, that in government requires collaboration that extends beyond the federal level and includes those in local and state governments as well as the private sector.
Still, individuals stand out because of their innovative thinking and leadership ability to shape government cybersecurity policy. We profile these innovative leaders in a feature we call The Influencers.
A great example is our most recent leader profiled in The Influencers: John Streufert, deputy chief information officer for security at the State Department. Here's why John Gilligan, former CIO at the Air Force and Energy departments, considers Streufert an Influencer:
"He's not just trying to follow the law or the guidelines that NIST has put out. He's trying to improve security, and he trying to look how to do that in most cost effective way, sort of a CIO perspective on where I can get the most benefit."
Who else has been profiled in The Influencers? They come from throughout government:
Who else should be profiled in The Influencers? You tell us. So far, we've been featuring individuals in the federal government, and will continue to do so, but we're looking for those innovative leaders from local and state government as well as from the private sector, think tanks and academia.
Please e-mail me your nominees to echabrow@GovInfoSecurity.com and/or post your candidates below.