Deafening Silence of Cyberwar Deterrence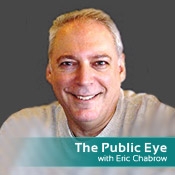 Richard Clarke, the onetime special adviser to President Bush who became a gadfly to his ex-boss because of the former administration's inadequate attention to IT security, raises a question that could be a thorn in the new White House:
"How does deterrence work in cyberwar when our capabilities are secret and our weapons undemonstrated?"
Clarke, writes in the November/December issue of The National Interest that an effort this year by several federal government departments produced a paper detailing a cyberwar deterrence strategy, but the document is labeled "secret."
"The last time someone thought a secret could deter an opponent was when 1960s movie character Dr. Strangelove yelled at the Soviet ambassador that a deterrent weapon only works 'if you tell us you have it.' ... In the absence of a public cyberwar strategy, we do not know today whether an Air Force general could launch an effective cyberwar. We have not had the basic discussion of whether the United States is better-off with the advent of cyberwar capabilities, or whether it is we who will be deterred in the future by the threat of cyber attack on our vulnerable infrastructure."
If the Obama administration is as transparent as it claims, perhaps it should lead a national discussion on our offensive cyber capabilities and how it could deter others from attacking us. If you believe Clarke, that discussion is urgent because our cyber defenses in his view aren't as strong as many would believe, especially in protecting the mostly privately owned national critical IT infrastructure.
"America's ability to defend its vital systems from cyber attack ranks among the world's worst. ... America's connectivity to the rest of the world is unlimited and controlled by no plan or agency. If, as a result of a cyberwar attack, our power grids failed, trains stopped and the financial sector froze, the government's response today would make former-FEMA Director Michael Brown's performance after Katrina truly look like one 'hell of a job.'"
Could equating the Obama White House with the Bush administration provide motivation for the incumbent to act?