Cybersecurity Becomes a Campaign Issue
Presidential Hopefuls Addressing Information Security, Privacy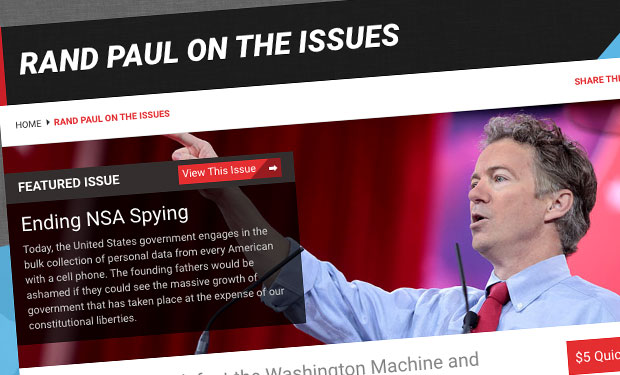 Unlike previous presidential campaigns, cybersecurity will be raised by candidates on the hustings, although the issue likely won't play a big role in deciding the 2016 election.
See Also: Live Webinar | Generative AI: Myths, Realities and Practical Use Cases
Republican candidates - Marco Rubio and Rand Paul - already have incorporated cybersecurity and online privacy into their campaigns to bolster their images as 21st century leaders who understand the threats that face the nation and, perhaps, to raise money. And a potential candidate, Gov. Chris Christie, this week touted his cybersecurity credentials by issuing an executive order creating the New Jersey's first cybersecurity and communications integration cell. "Our interconnectivity is one of our state's strengths, but it's also increasingly a threat for those who would seek to disrupt or harm people in our state," he says.
But will raising cybersecurity prove effective? "Cybersecurity is probably too 'inside baseball' of an issue for it to really drive much voting in a presidential election," says Kyle Kondik, managing editor of the political newsletter Sabato's Crystal Ball, published by the University of Virginia Center for Politics. "It's a topic that will invariably come up as part of larger foreign policy discussions, though."
And the issue also will come up in the context of defense and national security. Indeed, Rubio, a senator from Florida, referred to cyberdefense and the National Security Agency's bulk collection program of telephone metadata records (he's for it) several times in a May 13 speech delivered to the Council on Foreign Relations.
Sen. Marco Rubio addresses the Council on Foreign Relations.
Rubio cited in his speech the controversial Section 215 of the Patriot Act, set to expire June 1, which the government used to justify the bulk collection of American citizens metadata phone records carried out in secret by the National Security Agency.
"Rubio is playing the traditional hawk card and he wants appear strong on foreign policy, and he's taken the positon that it's OK pass Patriot Act and empower the NSA," says veteran political consultant Nino Saviano, who worked on the presidential campaign of Bob Dole in 1996.
Campaigning for Big Bucks
At this point in the campaign, candidates are trying to appeal to a minuscule group of billionaire donors, some of whom might care more about cybersecurity than the larger electorate. "The candidates are auditioning in front of a small group of people, mainly wealthy donors, who'll spend millions on single candidate," Kondik says.
Among those donors is Sheldon Adelson, owner of Las Vegas Sands Corp., the hotel-casino company that fell victim to a cyberattack last year (Report: Wiper Malware Hit Casino Firm). At the top of Adelson's checklist of candidates' positions are strong support for Israel and a promise [perhaps not overtly stated] to block efforts to legalize online gambling, which would compete against his casinos. Still, it can't hurt to pump up ones cybersecurity bona fides to attract those big bucks from the likes of Adelson.
Paul of Kentucky, another Republican senator vying for the White House, uses privacy related issues to bolster his base of libertarian voters. Paul, unlike Rubio, opposes Section 215, and says so on his campaign website.
At a Senate hearing late last month, Paul scuffled with Homeland Security Secretary Jeh Johnson over the Obama administration's wish to get manufacturers to build a back door to circumvent encryption that is becoming standard on mobile devices. "You've been so overzealous vacuuming up our records without a legitimate warrant," Paul told Johnson, according to The Hill. ... [Encryption] is a response to a government that didn't have a real sense of decency toward privacy."
Rand Paul's NSA Spy Cam Blocker
Paul's having a bit of fun with his NSA opposition, selling on his campaign website an NSA Spy Cam Blocker, a sticker emblazed with the capitalized name "RAND" that covers a laptop's webcam: "That little front facing camera on your laptop or tablet can be a window for the world to see you - whether you know it or not! Stop hackers and the NSA with this simple camera blocker. Safe and practical." It's all for a $15 donation.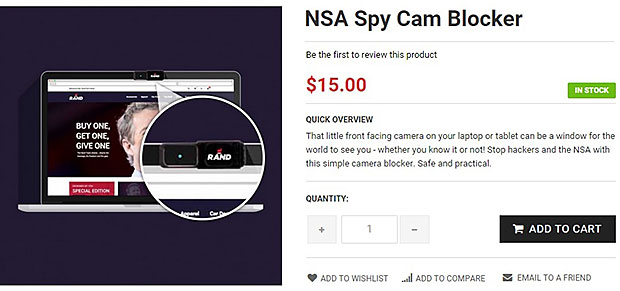 SOURCE: RandPaul.com
On a more serious note, though, Paul earlier this week "filibustered" against the Patriot Act for 10 hours in a Senate speech.
Cybersecurity deserves to be an issue in the presidential campaign. We need to know how the next president will address cybersecurity and online privacy because of the consequences they have on the economy and national security.
But don't expect the discussion surrounding cybersecurity an online privacy to dominate the debate. Like most elections, this one will be decided on economic issues.
Plus, in presidential election campaigns, the candidates and media focus on issues in which the candidates differ, and the differences of politicians and elected officials on cyber matters, for the most part, are relatively minute. Candidates generally understand the need for the government to snoop on American citizens if they pose a genuine threat to national security, but they differ on how the government should conduct surveillance. The government surveillance issue, along with other cybersecurity and privacy issues, are sure to be debated throughout the campaign over the next 18 months.